King Long Released "City Lights" Series on Guangdong International Urban Transit Exhibition
2016-09-13
2016 Guangdong International Urban Transit Exhibition was solemnly opened at Guangzhou International Procurement Center on September 12. Themed by "Innovative Driving, Green Bus and Intelligent Transport", this exhibition attracted a number of mainstream new energy bus, charging facility and core component manufactures at home and abroad for participation. As the pioneer of Chinese new energy bus, King Long displayed fourNEVmodels, shared latest research findings, and presented new energy integrated solution.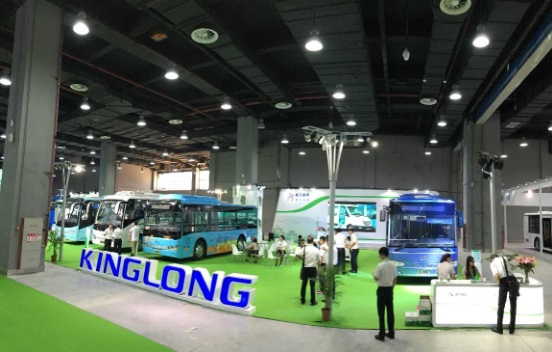 With the theme of "A Beam of Light that Changes the City", King Long released new products "city light" series at 10:00, under the witness of shipping enterprise representatives and media, marking King Long new generation of platformization bus "city light" series are formally listed.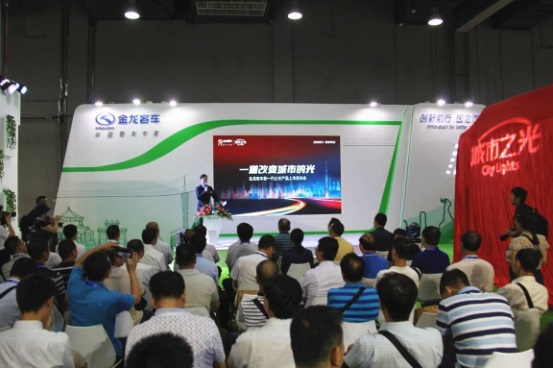 City light, bringing new brilliance to city
It is reported that the last generation of bus series has achieved the sales of 11,000 since launch in 2008, becoming domestic first bus series with sales exceeding 10,000. With eight years of market feedback and technology innovation, new series "city light" will surely surpass the classic, and usher in great upgrade.
Su Liang, vice president of King Long Bus Research Institute, made a detailed introduction of "city light" series. As a new standard bus platform, "city light" series enjoy synchronous upgrade and renovation in molding, interior and new energy control system on the basis of combination of advantages of the last generation buses.
"City light" series cover various types of vehicles, such as traditional vehicle, clean energy vehicle, hybrid electric vehicle, pure electric vehicle, 6m-18m BRT, coach, minibus and micro cycle bus, so they could meet different bus transport needs. Especially, the new energy vehicle models are equipped with easydrive 2.0 system upgrading, which realize intelligent management and remote control, improves energy conservation and efficiency, and creates more value for customers.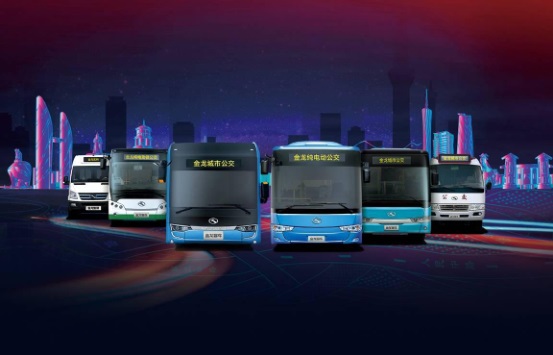 "A Beam of Light that Changes the City": Urban public transport is a window of city, as well as a part of urban culture and image. With the design though of "urban culture", the vision of "city light" series is to make public transport add luster to urban culture.
The new model has both artistic and practical effect. Every detail is elaborated by "King Long craftsmanship"; the seating space is more spacious, interior layout is more humane; 3H structure, birdcage type framework and cathode electrophoresis are applied to make technology guarantee safe driving; automatic transmission, ergonomic driver's seat, and new type pedal make driving comfortable and joyful; aluminum light-weight air duct reduces weight by 10% from details, which contributes to energy conservation and raises economy; the optimal layout of front and inner access ports, and electric harness leads to more convenient repair and lower operating cost.
Innovative driving and sharing excellent model
In the release, King Long emphatically presented its integrated solution of "city light" bus by a VCR. The features, "more aesthetic appearance", "more comfortable driving", "more agreeable seating", "more convenient maintenance", "more safe guarantee" and "more diversified power", add luster to every city, and are extended very corner of city.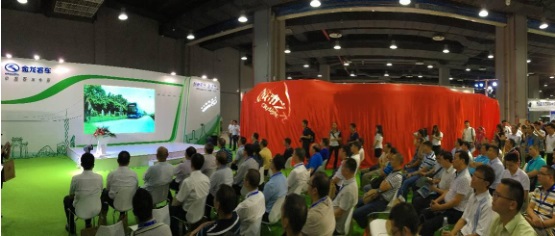 Site guests are watching "city light" VCR
The main models of "city light" series, namely, pure electronic vehicle XMQ6850 and XMQ6106, use optimal layout, which could maximize operating efficiency; optional slow or fast charging battery is provided, with 2 h in slow charging and 10 min in fast charging; self-developed King Long intelligent cooling system is mounted, which could reduce energy consumption significantly; high-voltage components such as battery are completely isolated from passengers, ensuring passenger security; dual power independent supply system and convenient charging solution lead to realization of zero emission.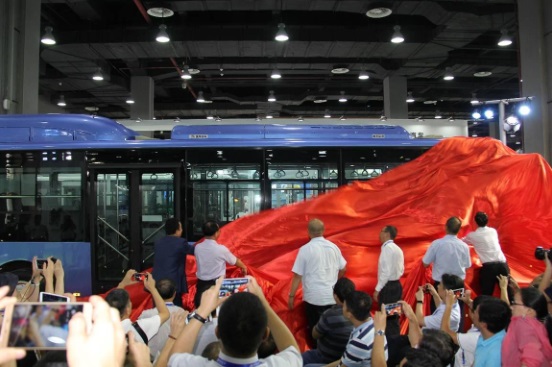 Site guests unveil the main model XMQ6106 of "city light" series
Besides, the pure electric XMQ6110 and plug-in hybrid XMQ6802 were also displayed in the exhibition.
Pure electric XMQ6110 is a model specially designed by King Long for urban commuting and group leasing market. Through technology optimization, the model only consumes the power of 70kW·h per 100km, and has the driving range more than 200km after full charging; the full load bearing structure enhances vehicle control performance; short rear suspension and long wheel base chassis structure are applied according to electric driving characteristics, which improves the conformability of seating; optional free WiFi and USB interface make travel more comfortable.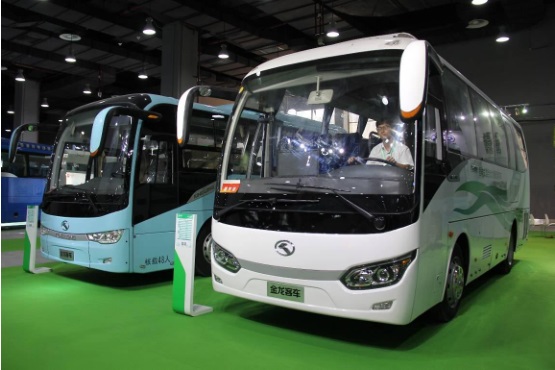 Pure electric XMQ6110 and plug-in hybrid XMQ6802
Plug-in hybrid XMQ6802 is a new model of green minibus that combines efficiency and aesthetic effect. It uses ISG plug-in hybrid power system and %D value driving system developed by King Long, which render operating management more intelligent; the more flexible oil electric and gas electric hybrid power platform is applied, with maximum gradeability more than 30%, and fuel saving ratio more than 25% under suburb condition, showing high power performance and economy.
In May, King Long developed a new brand concept, "innovative advance depending on you", to add more humane element to bus strategically. The new "city light" series is the sincere works of King Long to facilitate "better movement"
Focusing onSouth Chinaand boosting green transport
Guangdong and south China have long been the strategic market of King Long, which are characterized by fast introduction of new model, rapid updating, high product demand and wide market capacity. Data show that passenger capacity ofGuangdongpublic transport will be increased year by year, with 13.06 billion person-times in 2015, accounting for 10% of national public transport passenger capacity. InGuangzhou, Shenzhen and other cities, the daily passenger capacity of public transportation exceeds 10 million person-times. So, it could be said that Guangdong is not only an "economically big province", but also a "public transport big province".
To conform to national new energy strategy, Guangdong Province took the lead in the promotion of new energy bus in recent years. In August, Guangdong Provincial Party Committee and Government issued the Opinions for Accelerating and Promoting Ecological Civilization Construction, which specifically points out that "the proportion of new energy bus inventory in all buses is expected to exceed 70% by 2020, and Pearl River Delta region will grow into a national demonstration region for promotion and application of pure electric bus".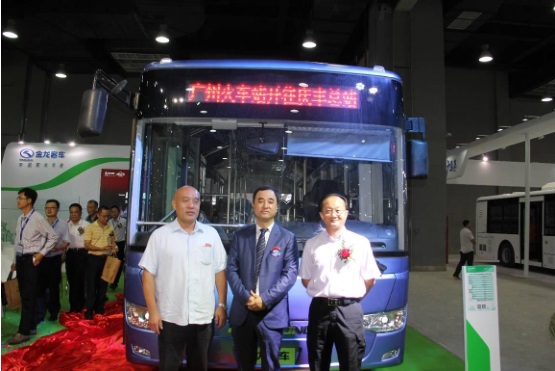 "City light" series receive consistent praise from leaders ofChina RoadTransport Association andGuangdongUrban Public Transport Association
With the 15 years of experience in new energy research and development, King Long has formed complete production lines for new energy buses of 5.5m to 12m after full consideration of high efficiency, energy conservation, economy and security. King Long has achieved outstanding success inGuangdongby every generation of new energy product from clean energy model, hybrid power model, plug-in hybrid model to pure electric model. In 2015, King Long worked together with Shenzhen Jiahua Lidao andSouthChinaAgriculturalUniversityto jointly construct new energy vehicle "enterprise-research institute-university" project. As a result,SouthChinaAgriculturalUniversitybecomesGuangdongfirst and national first batch of universities that use pure electric school bus.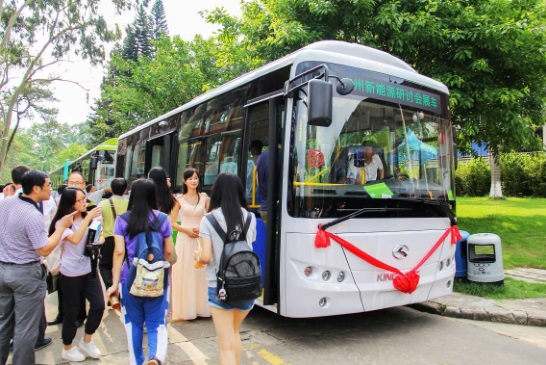 King Long "green traveler" model enters the campus ofSouthChinaAgriculturalUniversity
Innovative Advance and Profound Accumulation: King Long "city light" series continue the legend by sincerity. Ban Tao, domestic sales director of King Long, said, "By following the two trends of new energy and intelligence closely and based on the perception of forefront users, 'city light' series will provide more excellent travel value for the public". It is a beam of light that changes the city. Which city will be lighted? We are looking forward to it!
Attachment: Live Speech Test of Ban Tao, Domestic Sales Director of King Long
Distinguished leaders, guests and media friends:
Good morning!
First of all, thank you for taking time out of your busy schedules to attend our new generation of bus product "city light" series release conference. Please allow me, on behalf of our company, to express sincere welcome and warm gratitude to all of your present.
New energy vehicle promotion is the focus of industry development, and even national strategy, and is highly concerned by all walks of life. It is our duty to create green transport, construct green city, and provide safe, convenient and environmentally-friendly travel service for the public.
As an enterprise with 28 years of experience in manufacturing vehicle in the domestic, King Long is on a mission to provide safe, comfortable, environmental-friendly and convenient public transport for the public, and is dedicated to research of development of the product that satisfies market need. Up to now, our products have covered all subdivided markets, with cumulative sales of 360,000. From technology to process, product and service, King Long has made innovative advance for 28 years by adherence to the spirit of craftsman to strive to create golden brand for Chinese manufacturing.
Under the new brand concept of "innovative advance depending on you", the company successfully launched new generation of standard bus platform "city light" in 2016 by proceeding from "better serving the public", closely following urban environmental protection need and on the basis of the advantages of classical buses. The platform covers various types of vehicles, such as traditional vehicle, clean energy vehicle, hybrid electric vehicle, pure electric vehicle, 6m-18m BRT, coach, minibus and microcycle bus, so they could meet different bus transport needs.
The advantages of modularization and platformization are fully demonstrated in city light series, with lower purchase cost and guaranteed actual operation profitability. In the meanwhile, technical support of easydrive 2.0 new energy management system, King Long smart cloud service platform and national test center is provided to help users to improve information operation management capacity.
At this time, our company spares no efforts to create "city light" by following two trends of new energy and intelligence closely, based on the perception of forefront users and according to the years of research and development experience in bus, in order to provide more excellent travel value for the public. King Long will continuously join hands with you to achieve innovative advance depending on you.
Thank all leaders and friends again for your presence.
I wish you all a happy Mid-Autumn Festival on the occasion of arrival of Mid-Autumn Festival,
Thank you!