King Long Customized City Bus Solution for La Paz
2016-08-03
Recently, a batch of King Long city buses officially start services in La Paz, Bolivia in central parts of South America, which marks the launch of its fourth urban line since the first one in 2014. It is noteworthy that all the buses of the city bus system in La Paz are produced by King Long. So far, over 100 King Long buses are in service, customizing city bus network for La Paz.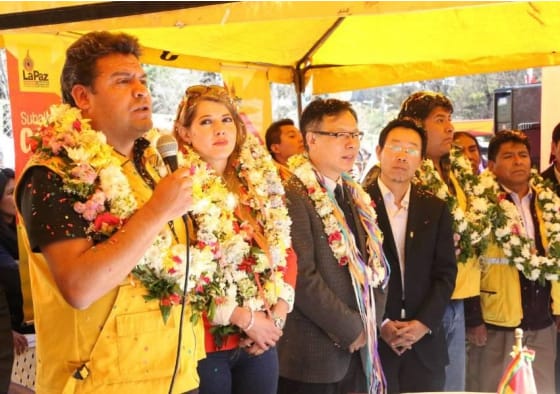 Mayor of La Paz, Luis (first from left) announced the official opening of the fourth bus line
"Currently, the manufacturing strength of China is keeping improving, and there is nothing new that domestic vehicles are exported in large volumes. However, King Long has got great achievements in Bolivia by customizing public transport solution in foreign countries with 'King Long-style' public transport system with great value." Upon the opening of the new line inLa Paz, Chinese ambassador toBolivia, Wu Yuanshan affirmed the global marketing strategy of King Long, which helps build gold brand for "made inChina".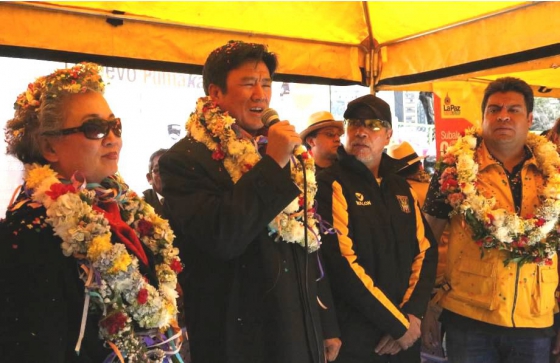 Chinese ambassador to Bolivia, Wu Yuanshan (second from left) attended the opening ceremony of the line
In Jan. 2014, the first King Long bus line was opened inLa Paz, where people sang and danced to celebrate it. Today, with the opening of the fourth line, again people are thrilled for their city bus quality is improved, and the bus system of La Paz develops from nothing and then keeps improving. King Long not only brings convenient transport, but also means their hope of fast development of future urban life.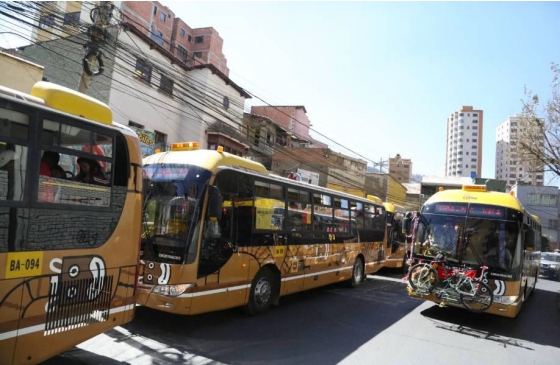 King Long buses show the charm of "made inChina"
King Long, which is accepted by People in Bolivia, is not only the city bus system, but also has King Long KINGWIN mini van which travels in streets and alleys, crosses La Paz Airport and conquers "Death Road" Yungas Road. "A KINGWIN passes by every 3 minutes in downtownLa Paz", this is the most vivid description of KINGWIN's popularity inBolivia. According to statistics, in 2016 overseas sales plan of King Long, over 3000 mini vans will be exported toBolivia, which makes it a year of boom since mini vans were exported there from 2012.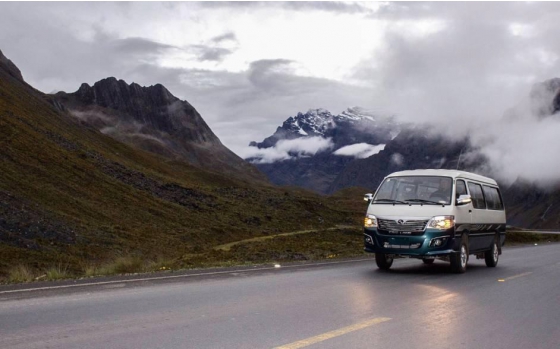 KINGWIN travels across Bolivia
"Each traveling King Long is a most influential carrier of the brand, and each owner of the King Long vehicle is our best overseas spokesman. King Long has been deepening and practicing global overseas marketing strategy since it started overseas marketing in 2000, from improving the cost performance of the product to innovating and improving the vehicle performance; from customizing urban bus system to helping clients solve financial difficulty; centered on vehicle, people and solution, it has achieved a win-win global marketing strategy with 'King Long feature'. In the future we are looking forward to creating more successful cases like 'Bolivia' for you and public transport." Stressed by Xie Weiguo, overseas marketing director of King Long.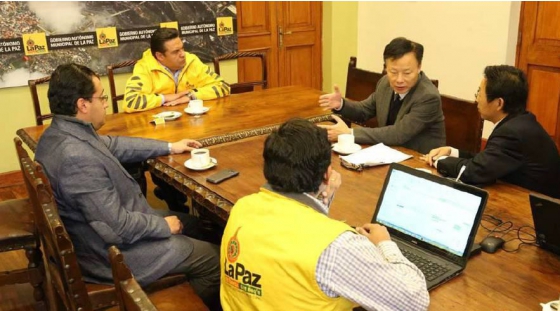 Mayer of La Paz, Luis discusses the future cooperation of transport system with overseas marketing director of King Long, Xie Weiguo