King Long Buses Shipped to Costa Rica for Operation
2016-05-23
From May, over 100 units King Long buses with eye-catching designs and high quality standards will be shipped to Costa Rica for operation, shouldering heavy tasks in the nation's booming tourism industry, urban public transportation and inter-city passenger transportation. In 2015, a batch of King Long buses were put on the roads in Costa Rica.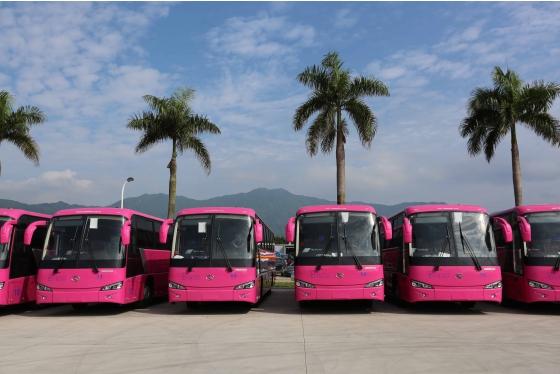 On May 19, a total number of 41 units King Long buses boarded its carrier at Xiamen Harbor. According to a staff who is in charge of the export business to Coata Rica, King Long buses are equipped with chassis from MAN directly imported from Germany and body frames independently developed by King Long. Despite the sluggish economy in South America, King Long has been extremely successful in marketing its whole vehicles to countries in this region.
Like most countries in Latin America, Costa Rica does not have any railways. Thus, people are very dependent on road transportation. Plus its hot weather and unsatisfactory road conditions, buses must can hardly work there before they manage to meet stringent demands from the local bus operators.
"In order to meet all demands set by our customers, we first made a bus model for trial operation. Later, upgrading has been made in a number of areas, including appearance and interior design," says the staff from King Long.
Costa Rica, located in the central America, boasts beautiful beaches, amazing volcanoes and breath-taking rain forests, etc.