King Long Continues to Strengthen its Presence in Thailand
2016-03-22
Based in Xiamen, King Long is one of pioneers in China in exploring the overseas markets. Thanks to its favorable geographic location and China's launch of One Belt, One Road Initiative, the bus maker continues to strengthen its presence in Thailand.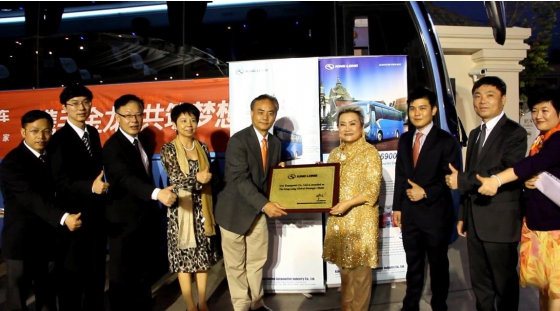 In recent years, Thailand has been witnessing an explosive growth in its travel industry. As a result, it has a growing demand for various types of coaches and buses. As one of the representatives of well-known brands born in China, King Long has successfully won the hearts of many customers from the Southeast Asian nations. In 2012, 50 units LONGWIN tourist coaches were delivered to Thailand; In 2013, 568 units King Long buses were exported to the country just after the bus maker was invited to attend Thai International Construction Materials & Machinery Exhibition on which King Long brought its two high-end coaches on display; in 2015, 648 units luxurious King Long tourist coaches made their way to Thailand. After this, King Long bus fleet in the nation reached 1,300 units. This year, 515 units travel coaches are all now set to start their journey to Thailand, making the presence of King Long more readily visible in the country.

On the back of King Long's success is the high recognition it has won from its global strategic partner Royal Gems Corporation. On March 20 this year, while celebrating the opening of Asia's largest Gems Center in Phuket, the company was also awarded as King Long's first Global Strategic Partner. This speaks volume of the two parties fruitful cooperation.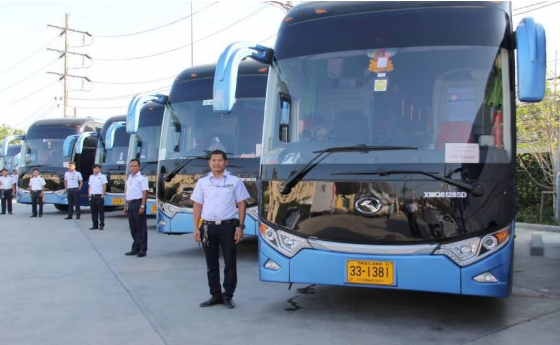 Ms. Nisa, president of OA Transportation Company with its majority shares owned by Gems Group revealed that last year the company received 4.5 million tourists from China, accounting for over half of the total. According to the president, the booming travel industry has generated a huge development space for passenger transportation market. Currently, the middle and high-end tourist coaches have already become the pillars of the company. Since joining hands with King Long in 2012, OA Transportation Company has purchased over 1,000 units King Long buses and coaches. Nowadays, it boasts the strongest capacity in passenger transportation. "Last year, King Long coach fleet reached 1,800 units in our company, becoming the main force in our nation's tourist transportation market," says Ms. Nisa.
This year, the number of Chinese tourists traveling to Thailand is expected to reach 10 million, up by over 20% year on year. With a solid position in the country, King Long is undoubtedly going to embrace better business opportunities. Wang Huijuan, deputy consul general of Chinese Consulate General to Songkhla, Thailand says King Long's continued robust growth in Thailand is a great example of China-Thailand Cooperation. She is confident that King Long, with its high quality products and unparalleled post-sales services, will maintain a fast growing momentum in Thailand.