King Long Attended Saudi Arabia International Auto Exhibition
2015-12-17
From December 13 to 17, the 37th Saudi Arabia International Auto Exhibition was held in Jeddah, the largest city in the nation with well developed industrial and trade facilities. Boasting the largest scale, the auto exhibition has become the most professional auto show in Saudi Arabia with the biggest number of auto brands. As one of the leading bus makers in China, King Long attended the auto exhibition, bringing seven bus models on display, including intercity buses, travel coaches, school buses, city buses, mini vans, etc. A number of visitors from Saudi Arabia and other nations in the Middle East showed keen interest in King Long buses and coaches.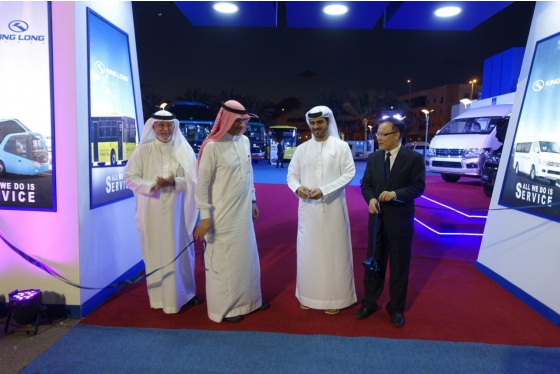 On the very first day of the auto exhibition, Mr. Eng. Othman, General Manager of SEITCO, the largest school bus operator in Saudi Arabia, Dr. Khalid, Vice President of NTC, King Long's exclusive sales agent in Saudi Arabia, and Simon Xie, Director of Overseas Marketing of King Long cut ribbons at King Long's exhibition booth. A number of visitors from Saudi Arabia other nations in the Middle East showed keen interest in King Long buses and coaches. Simon Xie, Director of King Long's Overseas Marketing Department, also had a busy and eventful day, holding business talks and negotiations with over ten customers.
Since its entry into Saudi Arabia in 2004, King Long has already established a formidable presence in the nation. Each year, batches of high-end King Long buses also arrived in the country for operation. Thanks to its tailor-made designs, high performance-price ratio, and heart-warming services, a total number of 4,000 King Long buses are now in smooth operation in Saudi Arabia, ranking the first position among all bus brands in the country.
King Long initiated its Go-Global strategy in 2000. After fifteen years hard work and exploration, it has set up a well-connected sales network, covering over 120 countries and regions across the world. Despite many challenges, the huge market potentials in the overseas market have brought big business opportunities for the bus maker. Nowadays, on the back of China's One-Belt One-Road Initiative, King Long has further strengthened its overall competitiveness and is now better positioned to usher in a brand new era of leapfrog development.