The 1,300th King Long Luxury Coach Was Delivered to Thailand
2015-11-26
On November, 20, King Long successfully handed over the 1,300th unit of luxury travel coach to its customers from Thailand at its bus manufacturing base in Xiamen. Thanks to the government's One-Belt One-Road Initiative, the delivery of marked a much stronger presence of King Long in Thailand. It also acted as a major push to King Long's overseas sales for the whole year.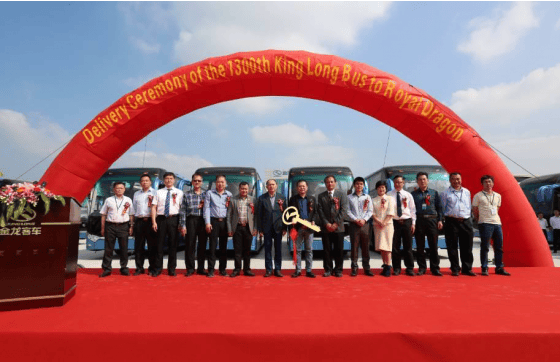 This year marks the 40th anniversary of the establishment of the diplomatic ties between China and Thailand. Also King Long has exported 660 units of buses and coaches to Thailand this year. Along with its rising fame in the Southeast nation, King Long has seen a constantly increasing presence in the local market. "Our exports have been growing year by year, and we are determined to further explore the market," says Zhang Bin, Deputy General Manager of King Long.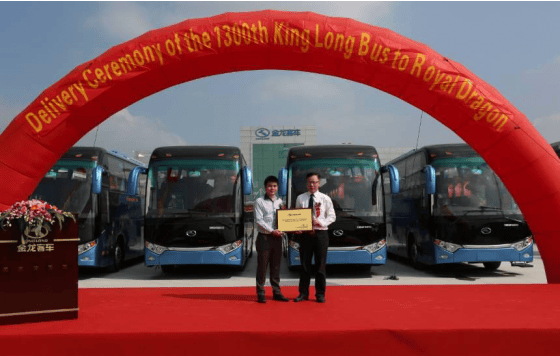 In 1980s when King Long was set up only for a short period of time, an engineer from Thailand was invited to provide technical assistance in terms of the design of the bus interior and body structure of its first bus. Thus, it ushered in the long-term cooperative ties between King Long and Thailand, laying a solid foundation for the two parties' cooperation at present. In May 2013, King Long attended Architect' 13 held in Bangkok by displaying its two high-end coaches XMQ6900 and XMQ6128. Thanks to the two parties long-term technological cooperation and King Long's efforts for product innovation made especially for Thai market, customers from Thailand have developed an even deeper emotional bond with King Long buses and coaches.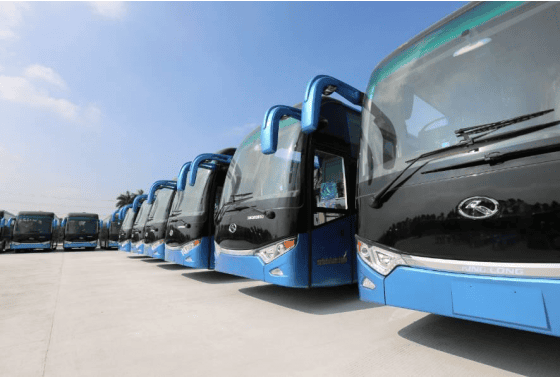 The customer which made the purchases from King Long is one of the leading enterprises specialized in travel, transportation, hospitality, catering industries in Thailand with its business mainly focused on Bangkok, Phuket, Pattaya, and Chiangmai. Currently, the company boasts a fleet of 1,600 units buses and coaches, the majority of which are branded with King Long.
"We have successfully deepened our business ties with Thai customers with cooperation in a wide range of fields. In recent years, King Long has seen an explosive growth in Thailand and our buses and coaches can be seen everywhere across the nation. Thai people are all quite familiar with our brand. We started exporting buses and coaches in large volumes in 2012. In less than three years, the number of King Long buses operating in the country has reached 1,300 units, taking up a sizable share of the local market. We are now well positioned to further explore the local market with even more buses and coaches to operate in the country" says Simon Xie, Director of Overseas Marketing of King Long.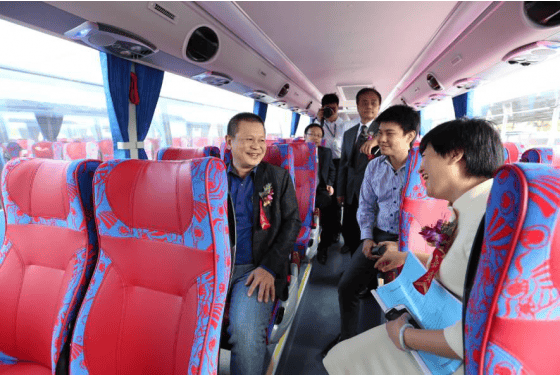 Customers from Thailand speak highly of King Long buses and coaches, saying the brand is very extremely attentive to small details. For example, King Long has made a host of adjustments to meet the special weather and geographic conditions as well as the drivers' driving habits. Every bus and coach can truly be said as tailor-made. The XMQ6128 delivered to Thailand this time has a new space-saving opening & closing mode for its luggage compartment and rear compartment considering the narrow road in the country. Such a little change has really won the hearts of customers from Thailand.

From zero to the 1,300th in Thailand, King Long's marketing story in the country has set a great model for its overseas expansion. Since the bus maker first initiated overseas marketing in 2000, King Long has set up a global sales network covering over 100 countries and regions. Moreover, it has set up 80-plus authorized agents and service stations abroad.