King Long, Cummins, Microvast and Jingjin develops in Strategic Cooperation
2015-10-21
As everyone knows, three core technologies behind new energy automobiles include engine, battery and electronic control. Now, engine technologies have be proved mature after years-long development and application, while battery industry still faces bottlenecks with many battery materials still in test demonstration, posing a common challenge for the upstream parts industry of new energy industry.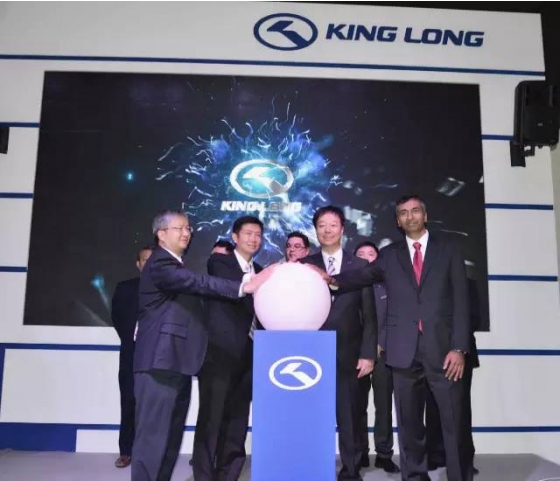 From the judgment of King Long, electronic control is an urgent technology for the whole vehicle manufacturing industry. ISG and Eco-chip both marks King Long's leading advantages in electronic control.

On this exhibition, King Long announced a number of strategic cooperation agreements with top suppliers such as Cummins, Microvast and Jingjin Electric. The three companies are leaders respectively in engine, battery and motor industry.

China has become the largest market of new energy buses. Accordingly, a complete technical chain of "battery motor electronic control" has been shaped in the form of strengthening own advantages and cooperating with other industrial forces by King Long, the most competent player in Chinese new energy market.
Furthermore, win-win relationships have also been developed among those enterprises with collaborative R&D and customization. Based on King Long's14-year experience in new energy vehicle R&D and manufacturing and the unique strength of each partner in its business, the idea of "market-oriented" R&D has been created.

At the auto show, King Long's Eco-chip plug-in hybrid system demonstration attracted intensive attention. Operating principles were clearly conveyed to the audience to provide the mysterious insight of plug-in hybrid power by displaying key components including multi-component lithium battery, generator, drive motor controller, drive motor, electronically-controlled clutch, ISG controller, ISG generator, and vehicle control unit. It is reported that this system is the first proprietary electronic system demonstrated by Chinese bus enterprises on such high-level event, marking remarkable achievements of Chinese new energy industry.

With strong policy support and fiscal subsidies, the production and consumption of new energy vehicles are booming in China. In the future, Chinese bus enterprises represented by King Long will further expand new energy market and green "Made in China" brand.

"After 14 years of development, King Long has developed a complete product line in Europe, covering fields like public transport, tourism and chartering. And European users' diverse demands have been also satisfied. In the future, King Long will continue to push overseas marketing strategies, apply internationally advanced technologies to improving our products, strive to become a world-class provider for international passenger transport systems, build quality brand, and exert positive influence on other Chinese counterparts," said Lian Xiaoqiang, King Long's Chairman.