E12 - A More Eco-friendly Plug-in Hybrid Electric City Bus
2015-10-21
As a leading plug-in hybrid electric city bus, King Long E12 is meticulously designed in every aspect of its exterior, interior, structure and operating mode. Equipped with ECO-Chip HPEV system, stepless gear system and high torque electric engine, the E12 outstands through comparison with the like products in energy conservation, power output, durability and efficiency. The adaptability to road condition and reliability of driving are comparable with traditional city bus. King Long E12, offers you a comfortable and green trip in the city.
ECO-Chip, King Long's self-developed split plug-in hybrid electric system adopts dual-motor structure, which is small in size, light in weight, effective in energy conservation and emission reduction. It saves cost and provides good reliability and stability, with 0-50km/h acceleration time of 15s under extreme circumstance, which is far higher than average urban bus.
ISG motor & TM motor: dual-motor coaxial combination, multiplying efficiency.
German made controller, with small size, great power and high efficiency, achieving precise drive control and effective energy conservation.
Cummins engine, proving durable and strong momentum.

S supported by multi-component lithium battery, King Long E12 plug-in hybrid bus is characterized by long endurance mileage, long service life, and great multiplying power for charging/discharging and quick charge rate.
All-electric endurance mileage beyond 35km under international working condition
Multiplying power for charging/discharging more than 10C, fully satisfying the demand of motor drive and energy recovery
10,000 cycle charges or above, 8-year quality guarantee
4C quick charge, fully charged in 10min while in practical use
ECO-Chip can not only reduce the wear rate of the engine, but also raise the power output. Even in non-plug-in mode, it can achieve a fuel saving rate of 40%.
Battery charge allows DC quick charge, fully charged in 10min, further reduces energy consumption
King Long's ICS cooling system: allows reasonable control on water temperature and provides suitable environment for operation of electric drive system
Vehicle controller: detects the driver's intention smartly and apply the optimum strategy according to the real-time working condition of road, helps improve the effect of energy saving.
Maintenance-free electromagnetic clutch: non-wear connection, greatly improves the harshness and reliability and free from maintenance in lifetime.
King Long E12 is meticulously designed to achieve the harmony of function and aesthetics.
With overhead battery allocation, centralized engine room adoption and ICS radiator fan design,the E12 works soundly to be a flowing scenery.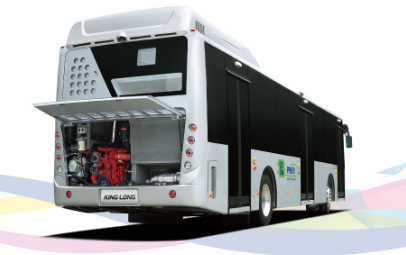 Through optimization of configuration and design, King Long E12 increases the effective standing area; the electric drive system significantly reduces dependence on fuel engine and noise in the bus, creating a more spacious and comfortable environment for passengers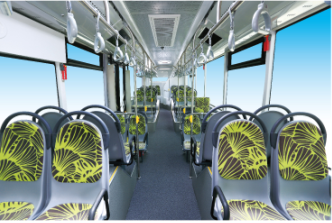 With ingeniously designed cabin, King Long E12 allows more ease for manipulation, reducing the driver's fatigue after long hours of drving and reassuring the comfort and safety of the passengers.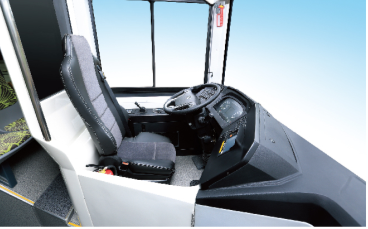 King Long multi-functional steering wheel: integrated with buttons of electric appliances, makes it easier for the driver to control