King Long XMQ6110 Electric Buses Arrive in Shanghai for Operation
2015-08-14
Recently, nearly 100 units King Long XMQ6110 electric buses were delivered to their customers in Shanghai for operation. Buyers of the new energy buses are a handful of well experienced auto rental companies. Some are introducing electric buses for the first time. All these green buses, are revealed to provide transport services for over 30 companies and public institutions in Shanghai, all of which are determined to realize green transport for their staff.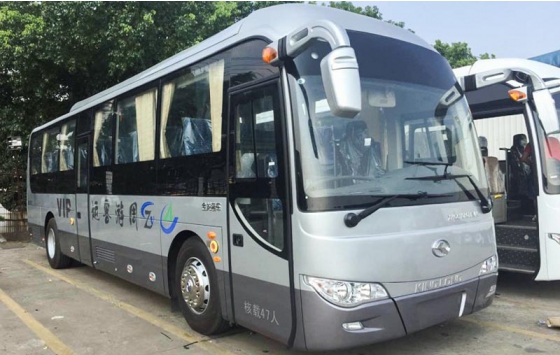 With longer wheelbase and shorter rear suspension, King Long XMQ6110 electric bus is equipped with monocoque body structure. Boasting a number of state-of-art green technologies, the bus is able to drive much longer distances continuously thanks to the help of King Long's ECO-Chip new energy vehicle management system. In the daytime, the vehicle can be set on fast recharging mode while on slow recharging mode at night so as to increase its operation hours. Thanks to its strengths mentioned above, XMQ6110 electric bus is believed to make the trip to and from work for all passengers immensely more pleasant and comfortable.

So far, an increasing number of companies and public institutions in Shanghai have gradually realized that the new energy buses not only provide green transport for their staff, but also help them cut operating costs.

According to some statistics, China produced 76,000 units new energy buses and sold 72,700 units the first half of this year, which were up by 250% and 270% year on year. The statistics clearly show that new energy buses have now entered a new era of fast development. Not long ago, Beijing, Shanghai, Anhui and five other provinces and municipalities have released their reports on their promotion of new energy buses. Shanghai, with a total number of 14,547 units of new energy vehicles in operation, is way ahead of other provinces and municipalities in China. Also worth mentioning is that the number of enterprises which now employ new energy buses for staff transport has seen a big jump in the past few years.
Source:www.chinabuses.org