200 King Long New Energy Buses Arrive in Zhejiang,China for Operation
2015-07-23
On May 28, King Long won the bid for providing 200 units of XMQ6106 plug-in hybrid buses to Keqiao District, Shaoxing. One month later, the first batch of the environmentally friendly vehicles arrived in the city for official operation. According to the bus maker, it will complete the delivery of 200-unit bus fleet in early August this year.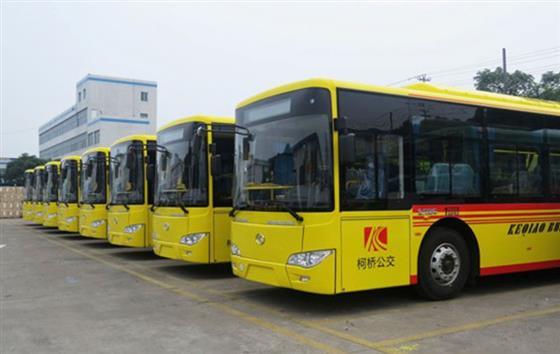 In recent years, Shaoxing Keqiao District has been making constant efforts to upgrade its bus fleet. At the end of 2014, it bought 66 units of new energy buses. This year, another 200 units King Long new energy buses will soon join the city's bus fleet providing green urban transportation services for the local citizens.

Li Wenbao, business manager of King Long Zhejiang, reveals that those cash-strapped bus operators often felt financially pressed to buy high-end buses in the past. However, many bus operators have changed their mindset and they now put the quality and reliability of vehicles as their top priorities. Along with such a change, King Long naturally gains more presence in the market.

King Long XMQ6106 gas-electric hybrid bus adopts ISG system and state-of-art multi-unit composite lithium batteries. It can be fully recharged in ten minutes. Under the standard road conditions, the vehicle is able to drive for over 35 kilometers when wholly powered by electricity. Also worth mentioning is that its high-voltage spare parts are laid on top of the vehicle. Thanks to such optimized layout, the bus has significantly improved its safety standards and is able to operate smoothly in deeper waters. When rear collision occurs, the bus's high-voltage system is less likely to be affected.

Measuring 10.5 meters in length, King Long XMQ6106 boasts high agility and strong flexibility. It is not only ideal for urban public transport, but also helps operators cut operating costs. It is firmly believed that King Long new energy bus fleet will inject new vitality to the local public transport.
Source:www.chinabuses.org