6111CY-Superior performance, Leading all the way
2015-07-22
XMQ611CY is a large road vechicle launched by KING LONG, after making 52 improvements and upgrades based on opinions of a wider range of customers.This new model is equipped with "3H" structure monocoque boby, together with greatly improved braking system, optimized access port design, intelligent cooling system and thermal management analysis techniques in the engine compartment,which will save fuel costs efficiently,so as to creat a more durable and safer coach. The interiors are of environmentally friendly materials,ensuring fresh and clean air in the car. Multiple measures and NVH noise reduction technologies plus a variety of user-friendly designs are taken to create a more enjoyable travel experience for passengers.
The passenger area adopts new sound insulation timber floor to create a quiet and comfortable journey environment. The professional manufacturing concept and humanized care of King Long are incorporated in every details of the interior trim of XMQ6111CY. We take the travelling comfort of passenger into full consideration and create an exalted enjoyable journey.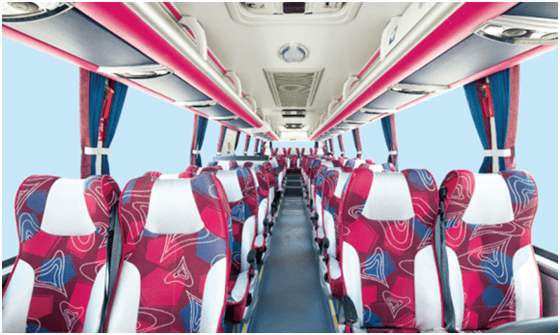 Multifunction instrument panel: the integrated arrangement of function buttons makes the driving more satisfying.