King Long Green Buses Arrive in Pingdingshan
2015-07-21
In earlier 2015, 25 units of King Long XMQ6106 plug-in gas-electric buses were officially put on the roads in Pingdingshan, which is also nicknamed as the Eagle City in China. The environmentally friendly bus fleet was aimed at replacing part of the city's outdated heavily polluting old vehicles. So far, having been under smooth operation for nearly half a year, King Long's bus fleet with its own ISG system has not only won the universal praises from the officials and drivers from the bus operator, but it has also successfully gained increasing popularity among the local citizens. People from all walks of life in the Eagle City are particularly impressed by the high safety standards, high fuel efficiency, strong maneuverability, and a host of passenger amenities of King Long buses.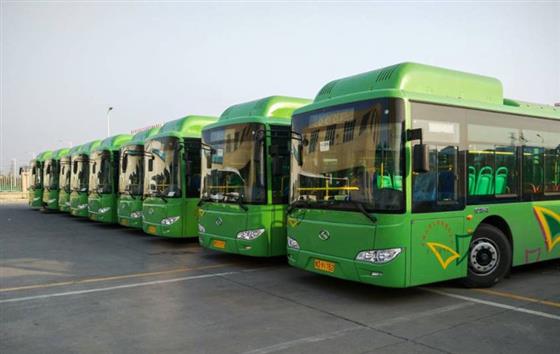 In recent years, Chinese governments have been actively promoting the popularity and application of new energy vehicles. Against such a backdrop, Pingdingshan Public Transport Company also does not want to lag behind its counterparts. Thus, it has strengthened its efforts to build the green transport in the urban area. So far, it has made heavy investments, replacing its old bus fleet with plug-in new energy vehicles.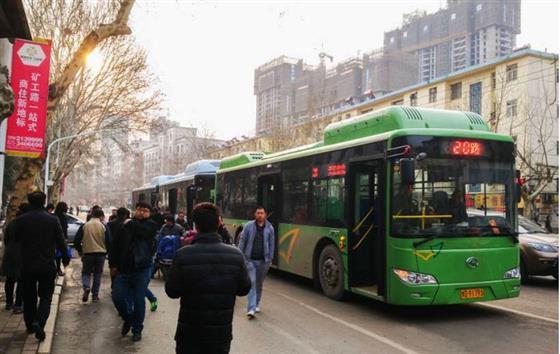 Statistics show that King Long new energy buses are able to achieve much higher fuel efficiency than other vehicles. Those vehicles put on the bus route No. 14 successfully cut gas consumption by 13%. Thus, the batch of King Long buses has significantly helped the local bus operator lower operating costs. Moreover, they have contributed immensely to the local government's drive to cut emissions and further protect the environment.
King Long plug-in XMQ6106 bus, which was put on bus route No. 14 and No. 2o for operation in Pingdingshan, is a customer-tailored product targeted at urban public transport. Equipped with the highly advanced, highly efficient, and highly energy-saving ISG control system, which is independently developed by the bus maker, the bus also adopts King Long's highly intelligent 5D easy-drive system. Armed with all these superior technologies, XMQ6106 is fully capable of meeting the various demands of bus operators.

According to an engineer from King Long, the company's highly intelligent 5D easy-drive system is a new type of vehicle management system for new energy buses. It constantly and closely monitors the operation of motors, recharging mode, intelligent switch of driving mode, overall vehicle operation, and safety indicators. Moreover, it easily solves problems confronted by other traditionally fueled buses, such as low fuel efficiency, weak power on uphill operation, slow recharging speed.

XMQ6106 bus is powered by multi-units composite lithium fast-recharging batteries with high energy intensity. Providing strong power, the batteries successfully help the vehicle become much dependent on traditional fuels, such as oil and gas. With small-sized, light-weight, and energy efficient ISG permanent magnetic synchronous motor and TM double-motor driving mode, the bus is able to realize start-up with zero fuel consumption. In the meantime, it is capable of increasing speed from zero to 50 km/h in less than 13 seconds. Driving up on a slope with a maximum angle of 20 degrees is not a problem for XMQ6106 at all.

As one of China's leading bus makers, King Long is fully committed to providing comprehensive green urban public transport solutions. By incorporating a host of innovative factors into its new energy buses, King Long is setting a new benchmark for China's bus industry.

According to the bus maker, Beijing Tianma Tongchi also purchased a batch of King Long electric buses for trial operation this year.