204 King Long 12-meter Luxury Coaches Were Exported to Thailand
2015-07-17
This year marks the 40 years anniversary of official establishment of China-Thailand diplomatic ties. On Jun. 12, a grand ceremony themed with "Sino-Thailand Road, Friendship Belt"was held in Xiamen to celebrate the handover of a batch of 204 units King Long luxury coaches to their customer in Thailand. The president of the leading tourism company from Thailand received the golden key from Zhang Bin, Deputy General Manager of King Long. Also at the ceremony, a number of journalists from various media witnessed the delivery of China's largest bus export to Thailand this year.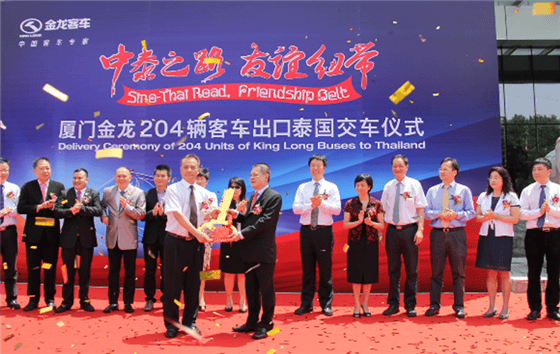 According to King Long, it's customer in Thailand has diversified business in tourism industry, transportation, hotels and restaurants. At the top enterprise in Thai's tourism industry, the company provides one-stop travel services, which are well received by tourists from all over the world. So far, the company has over 1,500 buses, all of which are made in China. Nearly 1,000 buses are branded with King Long.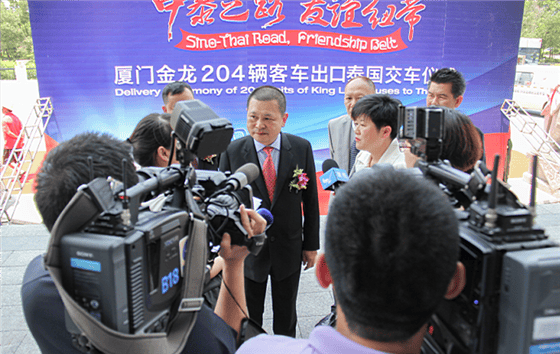 "We are particularly honored to have set up strategic cooperative ties with such a competitive company in Thailand," said Simon Xie, King Long's Overseas Sales & Marketing Director. Before joining hands with the company, King Long did not sell well in Thailand. However, in the past three years, King Long buses could be seen everywhere in all well-renowned tourist spots in Thailand, such as Bangkok, Chiang Mai, Phuket, and Pattaya. The visible presence of King Long buses in Thailand has made Chinese tourists feel at home. Moreover, King Long bus fleet has already made its way into Thai people's lives. They even say "where there is beautiful sceneries, there are King Long buses." This fully reflects King Long's fast expansion in the overseas market.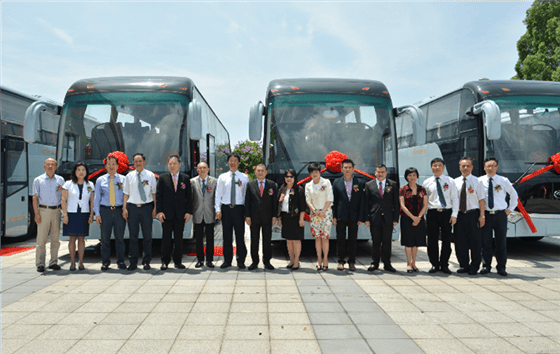 Thailand is known as the land of smile while King Long represents China's highest standard of bus manufacturing technologies. The president of the tourist company from Thailand remarked at the ceremony, "King Long buses boasts impressive design and outstanding performances. Its employees are highly professional. To meet our special needs, King Long has quickly come up with satisfactory solutions for us. By joining hands with King Long, we are hoping to create a win-win situation for both parties. While further exploring the tourism industry in our country, we are also aiming at providing unparalleled services to our Chinese customers. In the future, we are determined to continue supporting King Long's expansion in Thailand."

Apart from the 12-meter luxury coaches delivered to Thailand recently, the 9-meter travel coaches are equally popular among Thai customers. The two types of buses account for 50% of all orders from Thailand mainly due to their interior design and overall configurations which best suit the unique weather and road conditions in the nation.

Currently, King Long is growing rapidly and steadily in its overseas market. Statistics show that in 2000, the company exported 16 units of buses with an export revenue of 810,000 USD. In 2014, the company export volume jumped to 12,300 units and its export revenue soared to 307 million USD, indicating that the company has been expanding by an average growth rate of 50% in both its export volume and export revenue.
Source:www.chinabuses.org