King Long New Energy Buses Give Another Boost to Binhai Green Public Transport
2015-07-09
In October, 2014, Tianjin Binhai New Area Public Transport Group (hereafter refers to Binhai Public Transport) purchased 50 units of King Long plug-in hybrid buses XMQ6106 after inviting public biddings. After more than six months smooth operation, the bus operator recently decided to buy another 60 units plug-in hybrid buses in an effort to further upgrade the green public transport system in the Binhai New Area.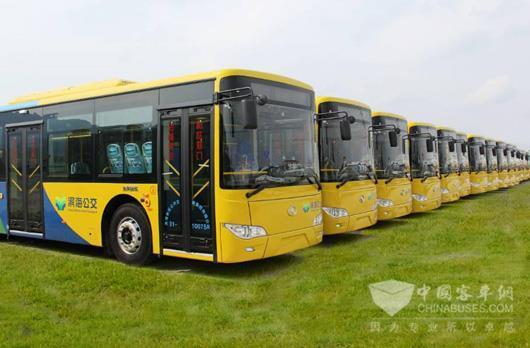 Currently, Chinese governments at various levels are actively promoting the popularization of new energy buses. The energy-saving and environmentally friendly buses are gradually becoming the "new normal" in China's bus industry. King Long plug-in hybrid buses, equipped with "ECO-Chip" new energy management system, 5D value driven system, and multi-faceted integrated management & control, have significantly upgraded their energy efficiency.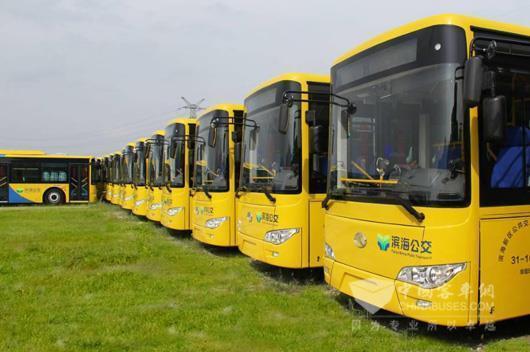 The new energy buses are not simply replacing the driveline systems of traditional buses. With environmentally friendly drivelines, new energy buses also have adopted new safety standards and management systems. XMQ6106 plug-in hybrid bus has made a number of innovations in terms of vehicle safety standards. For example, it sets those high-voltage spare parts on top of the vehicle, which enables the bus to operate under deeper waters. Moreover, such a layout significantly reduces the damage of the high-voltage spare parts when rear collision occurs. When the bus collides with any other vehicles, the high-voltage power will be automatically cut off.

So far, King Long XMQ6106 has been well received across China. It has gradually become the main force in China's rising green urban public transportation.
Source:www.chinabuses.org