King Long Reaches A New Record High With a Brand Value of 21.725 Billion RMB
2015-06-18
On June 17, the List of China's 500 Most Valuable Brands of 2015 was officially released in Beijing. According to World Brand Lab, King Long, having made its way into the list for twelve consecutive years, ranks the 119th place this year with a brand value reaching 21.725 billion RMB, a new record high. It is also among the top 10 in China's auto industry. Compared with that in 2014, King Long's brand value grows by nearly 30% year on year.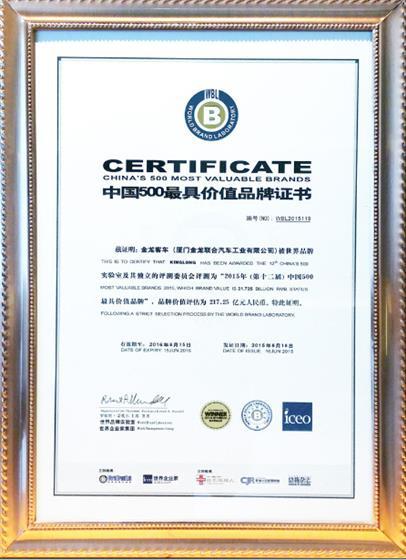 Currently, the World Brand Lab is well recognized as one of the three major brand evaluation institutions. Since 2004, it has been making the list of China's Top 500 Most Valued Brands. As one of China's leading bus makers, King Long's brand value has been growing steadily for the past twelve years, rising from 4.908 billion RMB in 2004 to 21.725 billion RMB in 2015. On average, it has been expanding on an annual growth rate of 14%.

Along with the rapid growth of its brand value, King Long has also witnessed a continuous expansion of its overall production scale, a fast rise of its market share, a strengthened market competitiveness and presence. Last year, the parent company, King Long Automobile Group went through shareholding restructuring. Such a move has ushered in a new era for the leapfrog development of King Long. It has also sped up the company's globalization process. Since then, the bus maker's further development has been put on the top agenda in Fujian Province's blueprint on auto industry. Nowadays, King Long is making every effort to strengthen its presence in the new energy bus market. By rolling out new energy bus solutions, it has pushed the promising field to a new height. In the meantime, by taking advantage of China's "One-Belt & One-Road" Initiative, King Long focuses on independent innovation and is making new headways in its overseas market. So far, it has made a number of breakthroughs in its global expansion and set up a readily recognizable image in the worldwide market.

Currently, it can be safely said that China's bus makers have already entered a brand new stage characterized by brand competition. Having made its way into the list of China's Top 500 Most Valued Brands for twelve consecutive years, King Long has truly made impressive achievements. Such an honor will continue to offer incentives for the bus maker to make new miracles in China's bus industry.
Source:www.chinabuses.org