Shaanxi Automobile Group Joins Hands with King Long for New Joint Venture
2015-05-07
After three years' preparation, Shaanxi Automobile Group and King Long Automobile Group recently reached a deal of jointly setting up Xi'an King Long Automobile Co., Ltd., which, located at Xi'an Economic & Technological Development Zone, will be specialized in designing, developing, producing and selling buses, vehicle chassis and other auto spare parts as well as providing related after-sales services and doing related importing and exporting business. Combining the strengths of King Long in its brand recognition and bus coating technologies and Shaanxi Automobile Group's competitiveness in vehicle chassis, the joint venture is set to become a new enterprise model for restructuring domestic auto industry and reach a win-win situation for both parties.

Co-funded by Shaanxi Automobile Group and King Long Automobile Group, the new joint venture will be built in three phases. Upon the completion of its construction, the new company will be the largest new energy bus production base in China's northwestern region. It will also play a significant role in boosting the further development of the bus spare parts and complementary industries in Shaanxi. Based in Shaanxi and its provincial capital Xi'an, the company will focus its market in Northwest China, North China, Central Asia and Eastern European markets. Such a move made by the two auto giants is well aligned with China's One-belt & One-road Initiative.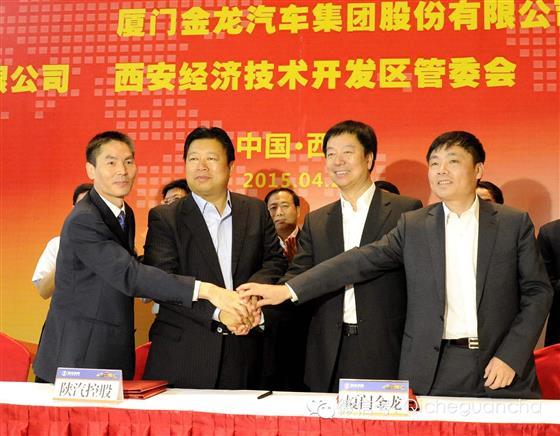 Currently, Shaanxi Provincial Government is making every effort possible to restructure and optimize the industrial structures. By doing so, it is aiming at cultivating the auto industry its new pillars for economic development. The establishment of Xi'an King Long Bus Co., Ltd. is believed to further strengthen the competitiveness of Shaanxi Automobile Group. On the back of its parent companies, the new bus maker is set to become the leading enterprises in the bus industry in China's vast west region and play a significant role in the economic development of Shaanxi province.

The joint venture also ushers in a new era for King Long. The two parties will conduct a wide range of cooperation to further strengthen their presence in northwest China and central Asia. Shaanxi Automobile Group prides itself in research & development of chassis for commercial vehicles. In the meantime, King Long is particularly strong at marketing and brand promotion. Their cooperation signifies a huge commercial success for both parties.

Since both Shaanxi Automobile Group and King Long believed the huge business potential in the bus market in China's vast west region, the two parties launched talks for cooperation in 2012. In July, 2013, the two companies reached a framework agreement for cooperation in Shanghai. Soon after, the two parties set up a special working group in preparation for the establishment of the joint venture. In Mar. this year, the two parties reached a final deal for the birth of Xi'an King Long Bus Co., Ltd.