King Long KINGO Makes a Big Splash in Nigeria
2015-05-07
Following its impressive performance in the overseas markets, King Long is embracing 2015 with even more encouraging news. With a noticeable market presence in Nigeria, the bus maker is securing new deals in this African nation at the beginning of the new year. On Mar. 25, a total number of 202 units King Long KINGO buses were well lined at Xiamen Port, ready for their delivery to Africa. It is expected that this batch of buses will start their official operation in Nigeria in early June.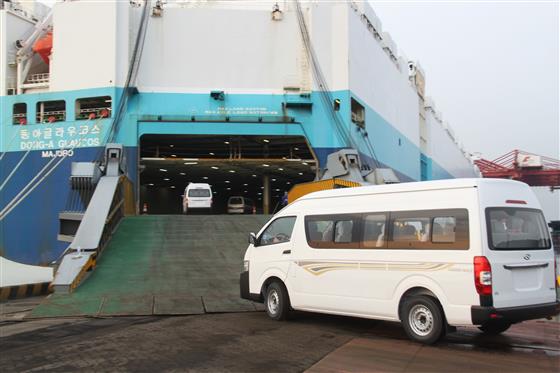 King Long sealed this big deal with its long-time loyal customer in Nigeria. It is also known that the customer has well developed transportation networks across the nation and has already bought nearly 1,000 units of various types of buses from King Long.

This time, King Long KINGO wins the heart of its customer by offering a number of attractive features. First, its 2.7 L gasoline engine meets the frequent operation demands in the local markets. Second, its spacious interior facilities provide more travel amenities for travelers. Third, its ABS + EBD and radar system for backing ensure multi layers of shields against various safety hazards.

With complex road conditions, Nigeria has a huge demand for light buses, which are the chief travel means for local citizens. However, the competition in the light bus market is quite intense. Still, King Long has not only won its popularity in the passenger transportation market, its KINGO buses are also widely used for wide public services, such as medical treatments, police services, etc. According to the bus maker, the export volume of its KINGO to Nigeria, the most populous nation in Africa, reached over 100 units every quarter in 2014. For the whole year, a total number of 821 units King Long light buses arrived in Nigeria for official operation. In the face of the restructuring of the local auto industry, constant changes of the industrial policies, the spread of Ebola, and the instability of the local political environment, King Long indeed handed in a satisfactory result in Nigerian market last year.

In recent years, King Long has become increasingly well known in Nigeria. Users of King Long light weight buses, all spoke highly of the high reliability of the vehicle, the company's comprehensive after-sale services and high performance-price ratio. One customer from Nigeria also indicates that it is planning to replace all its old vehicles with KINGO buses, thus expanding its King Long light bus fleet so as to meet the rising local demands.