411 King Long Buses Shipped to Iraq and Egypt during Spring Festival
2015-05-07
The Spring Festival is the most ceremonious traditional Chinese festival and this year's Spring Festival is an auspicious start for King Long exports in the new year. On the first and second day of the lunar year, Kong Long shipped 61 units of tourism buses to Iraq and 350 units of light buses to Egypt respectively, carrying King Long people's wishes for the new year, going forward vigorously to the India Ocean.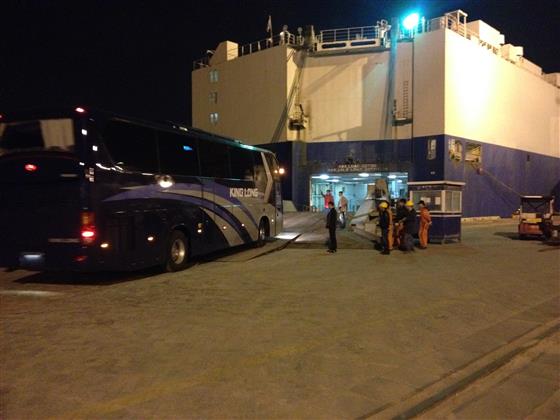 The impressing beginning not only sets King Long's exports on a flying start but also that the 61 units of tourism buses are the first batch of Chinese buses entering Iraq market after the Iraq war, which is another zero-breakthrough made by King Long . While in Egypt market, King Long has sold nearly twenty thousand light buses, is becoming a well-recognized business vehicle manufacture in local place.

King Long's performance in overseas market has always come out in front in the industry. On the 2015 overseas sales layout, King Long overseas sales & marketing director Xie Weiguo said: "King Long gets off to a good start to the new year overseas market, emerged from numerous international brands through outstanding quality, strong brand effect and excellent after sales service. In 2015, King Long will continue to carry out the international overseas marketing strategy to improve quality by elements of technology, to accelerate overseas sales and service network construction work, to improve after sales service initiative, to meet customer demand from many aspects and further expand overseas markets to seek more opportunities for development."