King Long Supports Fujian Province Public Bus Drivers Professional Skills Competition
2014-11-21
November 13, 2014, hosted by the Province Transportation Hall, the Province Federation of Trade Unions, Human Resources and Social Security Hall in 2014, the "King Long Cup" city bus driver professional skills competition in Fujian province is successfully concluded, there are 33 bus driving elite of 11 cities competed driving skills, to be a safe driver. King Long provides the bus for competition, supported competition successfully held.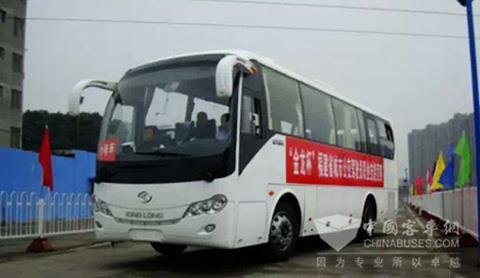 The competition according to the bus driver national qualification, to meet the competition requirements, King Long sent XMQ6900Y, as the training and competition bus of competition.
XMQ6900Y belongs to King Long classics best-selling Jieguan series model, favored by the market, is also a popular model of business and business reception. In the period of training and competition, XMQ6900Y shows great control of handling and stability, high praised by organizer and drivers. After Fujian province bus driver professional skills competition, XMQ6900Y will also serve the Fuzhou bus driver professional skills competition held recently.