King Long New Energy Buses Provide"Low-Carbon" Service
2014-11-18
In recent year, the attentive Yancheng citizens found that there are more and more "green buses" -they use green color as the background of the buses, is the obvious characteristic of King Long.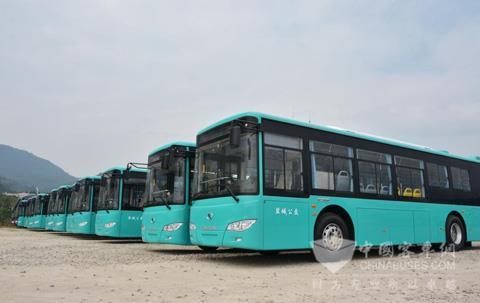 Here, the King Long marketing manager of Jiangsu XiaZhenhua felt very proud, "At the begin was 30 units of 12m BRT bus, use in good condition; at the end of last year, added 102 hybrid buses XMQ6106. This year has delivered 60 units of XMQ6801 and 40 units of XMQ6127, and to deliver 120 plug-in electric gas hybrid buses XMQ6106, total will reach 352 units.
"No matter in quantity or value, King Long buses has the irreplaceable status in the system of Yancheng city." The deputy general manager WuHongbiao of Yancheng Bus told reporters.

The King Long marketing manager of Jiangsu XiaZhenhua said, "King Long will continue to increase support for after-sales service, to do a good job of Yancheng Bus protection. Yancheng district has a large number of vehicles, full types, especially the new energy vehicles, have implemented large-scale operations. These are pressures and challenges for King Long, but also opportunities. The company will continue to be devoted into research and develop new energy bus service, let more cities take on the road of low carbon environmental protection.