King Long Serves President Putin in Russia
2014-10-31
On Sept. 19, Russia's President Vladimir Putin was invited to witness the official establishment of a chemical factory in Nizhni Novgorod. As the factory's cooperative partner, Avtosebet has set up cooperative ties with King Long since 2012. As a long-term customer of King Long, Avtosebet was granted to use King Long XMQ6129Y as the tour bus to serve the nation's top leader Vladimir Putin.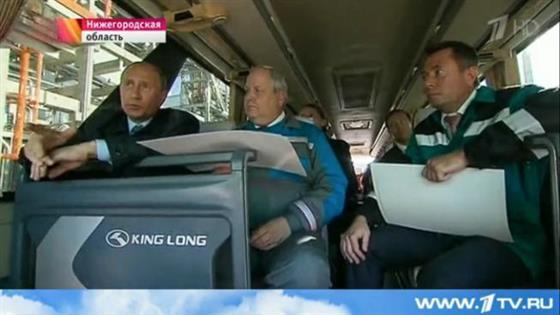 As a fist product of King Long in its overseas markets, XMQ6129Y passed GOST and OTTC certificates from Russia in 2010. Since then, the vehicle officially made its entry in the nation. To date, King Long's diesel powered bus models and some CNG powered ones measuring 13 meters, 12 meters and 9 meters in length have all made their way into Russian market. In 2013 alone, King Long exported nearly 200 units of buses to Russia. Currently, it is taking the lead in Russian market among all bus brands from China.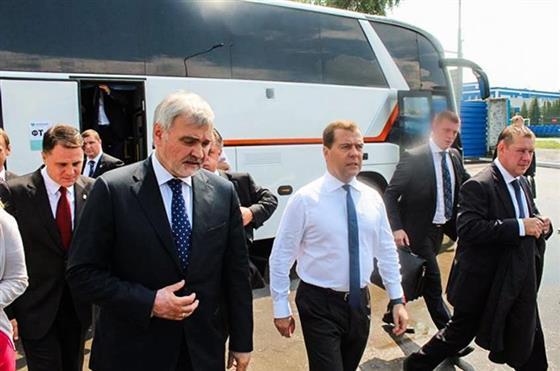 As early as 2012, the person-in-charge from Avtosebet spoke highly of XMQ6129Y and made its first purchases. On Sept. 19, the vehicle once again successfully completed its task assigned by Avtosebet to serve the nation's top leader. King Long XMQ6129Y thus was put under the spotlight and got the hard-earned opportunity to showcase its spacious interior and highly trustworthy performance.

According to King Long, Russia's premier Medvedev also had a close contact with the bus brand from China. On Jun. 25, 2013, when the premier paid a special visit to Russia's National Training Base for Pphysically Challenged Athletes OKA which located at Aleksin in Tula, he took a closer look at King Long mobile medical treatment vehicle. As a refurbished vehicle for medical treatment born out of XMQ6130Y, it can well serve those handicapped athletes during their recuperating period. The vehicle has also been praised for doing a great job at the Winter Olympic Games for Russian National Team.

King Long has been attaching great importance to developing the market in Russia. It has been taking various measures to explore the local tourist coach markets. On Nov. 16, 2012, at the second meeting for China-Russia Tourism Cooperation Forum, King Long signed agreement for strategic cooperation with Russia's largest tourist transportation company Vetter Transportation Company and a local sales agent Europe-Asia Transportation Company. Pooling the strengths from three parties, King Long has been actively adjusting its export strategies and exploring the highly profitable high-end bus market. As China's first bus supplier for Vetter Transportation Company, King Long has witnessed the constant rising of its market presence.

Nowadays, King Long has earned the recognition and trust of customers from Russia thanks to its highly reliable products and satisfactory services, fully demonstrating China's manufacturing capabilities. The company is now making every effort to upgrade its product line and strengthen its market presence in Russia by taking full advantage of the good Sino-Russia relationship.