King Long's 4th Consecutive Appearance at IAA Hannover
2014-09-25
The 65th IAA Commercial Vehicles Hannover (IAA 2014) will be held in Germany from September 25 to October 2, 2014. On September 24, as the only Chinese bus manufacture who makes four consecutive appearance at IAA, King Long brings three products designed for European market to IAA 2014.

Reviewing the experiences of Chinese passenger cars trying to gain international market access, King Long was the first to pass the "high threshold" of EU Certification and step into the EU market, meaning that it has become capable of providing solutions for the first-class international passenger bus operators. In August, 2003, 82 buses were shipped from Shanghai port to Malta, officially unveiling the prelude of King Long entering the European market. King Long officially accessed the EU market in 2005. Currently King Long has nearly 20 models gained European Union certification, ranging from tourist transport, urban transit, intercity passenger services in more than 10 European countries. A business model of collaboration with large European passenger companies was successfully formed.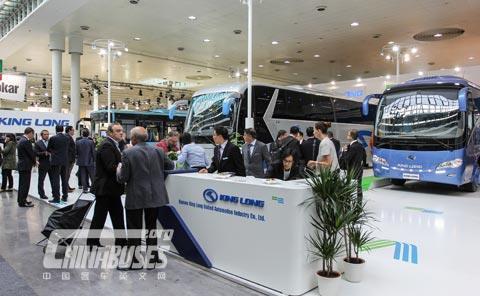 King Long's 4th consecutive appearance at IAA Hannover
In 2003, while most of China's passenger car businesses haven't put forward the marketing strategy for overseas market, King Long had received its first European order in the overseas markets. In August, 2013, 82 King Long large-sized buses were shipped from Shanghai to Malta, marking a milestone for the first export of Chinese coaches to Europe. As King Long's overseas sales department was newly established, with its export business primarily based in Southeast Asia, the Malta order helped King Long rapidly extend its reach to Europe. It is the first step for King Long to realize a self-improvement dream of seizing overseas market and becoming a world first-class coach manufacturer.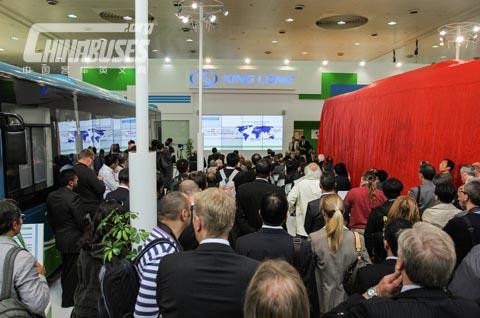 Chinese and foreign journalists attending King Long's news conference
Then in 2005, King Long again became the first to gain the British VCA certification, a "PASS" to EU market. In June of the same year, the first King Long large-sized coach was officially exported to Britain. In 2010, King Long explored a market segment of medium-sized tourist buses to meet local needs; two medium-sized models were warmly received in the UK market. Now, King Long buses could be seen everywhere in the EU continent. For instance, in Malta, 70% of buses are provided by King Long; In Italy, King Long ranked high in market share with big annual export volume of tourist buses; In the UK, more than 100 King Long buses were put into the transportation service for the London Olympic Games among which 10 "Eurostar" became chartered service vehicles for the Olympic global partner "Samsung".

So to speak, King Long's development proves that: "made in China" have the capability to compete with world-renowned brands on the European stage. King Long's twelve years striving to seize European market provides a perfect model for China's national automobile industry to speed up its global presence.

From 2008 to now, King Long has made its fourth consecutive appearance at IAA Hanover. As a Chinese coach maker of the highest exposure in Europe, it receives high attention among international high-end brands and thus becomes an eye catcher of many domestic and foreign media outlets.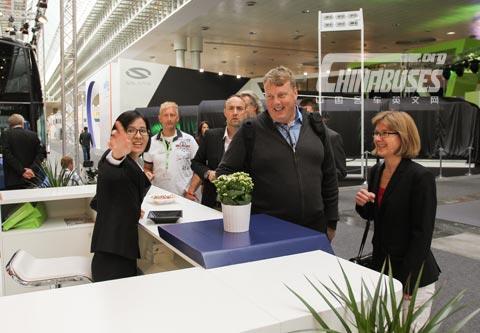 Visitors inquire King Long new products
"Our 4th consecutive appearance demonstrates our dedication to overseas brand building and strengthening our presence in European market, and also reflects our commitment to rapidly capturing market information and adapting to market needs," said XieWeiguo, Overseas Marketing Director of King Long. Thanks to our dedication and commitment, King Long's new products launched at the previous IAA exhibitions have made a great impression on European customers with their excellent performance and adaption to market needs. In this exhibition, an updated version of King Long bus will once again represent China in the world's top auto show then lead the green trend in Europe.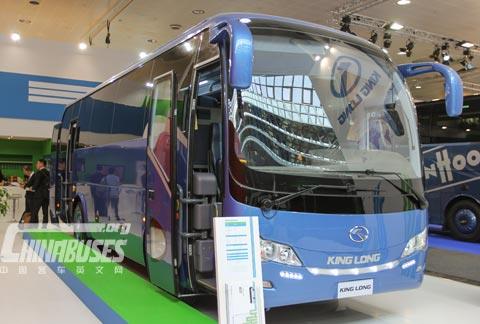 King Long C9
By adapting to the changing European market, King Long fully upgraded the best-selling product C9 with a big advancement in the design of dash board. The refrigerator is incorporated into the dash board, leaving more space for passenger seats. Dash board is better arranged with all keys within touch. Dash board can be opened wholly for easy maintenance. The most important thing is that it uses Euro VI engine so there's a significant reduce of emissions for a low carbon and environmental protection purpose.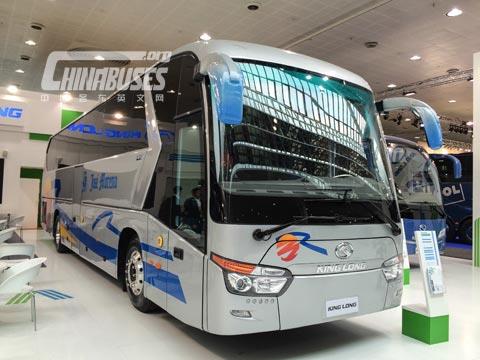 King Long C12
The updated version of 12meter coach - C12, i.e. the European version will debut with a brand new face at the show, adding a series of humanized design in addition to the original technology advantages. For instance, a lower height make it easier for passengers to get on or off, at the same time it lowers down the center of gravity, enhances stability and prevents rollover. Based on the average height of the Europeans, a new dash board was developed--- the original eyes position of 160-180 used domestically was adjusted to 165-190. In addition, same as C9, C12 also has powerful Europe 6 "green hearts".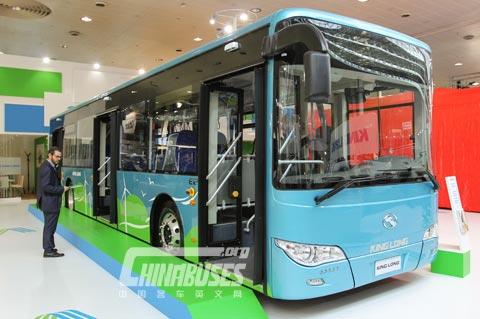 King Long E12
As a highlight of the exhibition, King Long successfully test launched a new energy product E12, a specially designed plug-in hybrid targeting city bus market, to the European market. Aiming at the characteristics of European market, the vehicle adopts the parallel system with 6-gear AMT transmission box, meanwhile, with the mature, stable and reliable manganic acid lithium battery as the power source, once fully charged, it will have an all-electric range more than 30km, and the charging can be fully completed within 30min. A pure electric mode can be used in central urban areas to reduce emissions. While the hybrid mode can bring a 40% of oil-saving rate within a travel distance comparable to traditional buses. It is a perfect combination of energy conservation and smooth travel. In the face of stringent requirements of vehicle purchase in the European market, King Long's bold attempt in new energy vehicles has laid a foundation for a new starting point to enter Europe market.
King Long's product lines in the European market have been gradually improved with the development over twelve years, including a variety of certified models ranging from 8 m to 13 m for applications in public transport, tourism, group and other diversified needs of European customers. The new products launched in Hanover show are tailor made for the requirements of Euro 6 emission reduction. Based on our twelve years' experience in Europe, we have every reason to believe that 2014 will be a new starting point for King Long's continual expansion in European market.