King Long Pure-Electric Bus Delivered to Sanshui, Foshan
2017-09-26
As one of the China's top 100 districts with GDP in excess of RMB 100 billion, Sanshui district pays high attention to the ecologic environment protection while boosting the economic development. Recently, a batch of fresh green King Long pure-electric buses was delivered to Foshan Sanshui Transportation Development Co., Ltd. (Hereafter referred to as Sanshui Transportation Development) to boost Sanshui's construction of green transportation system and safeguard the local ecologic environment.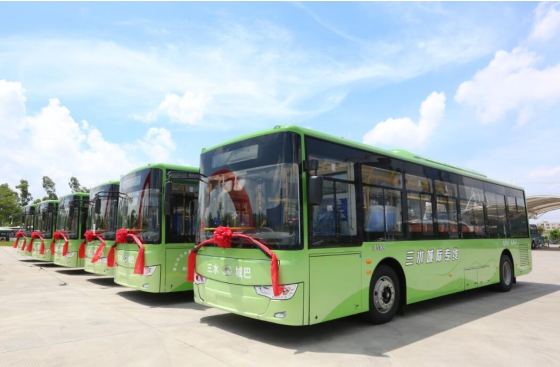 New Energy Solution Adapts to Local Condition
It's known that this batch of buses will be used to improve the inter-city transportation between Sanshui district and other districts of Foshan, in order to achieve trans-district environmental-friendly and comfortable traveling. During the choice of pure-electric buses for inter-city operations with long mileage, Sanshui Transportation Development chose carefully through multi-party comparison. After learning the demands, the King Long technical team arrived at Sanshui in the first time to acquire the transportation route information, analyze the data, and establish the green transportation solution accordingly. In addition, King Long put sample bus for trial operation on the actual transportation route. Finally, with excellent test performance, King Long XMQ6110BEV and XMQ6106G pure-electric buses emerged from various competitors, becoming the new green transportation main force of Sanshui Transportation Development.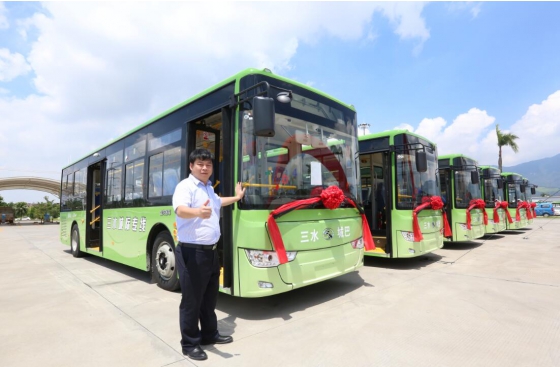 The above-mentioned two bus models are the main products developed by King Long for new energy market. In response to the characteristic of high busload, a number of design and space optimization is applied for the bodies of two models to enlarge the internal passenger space and improve the riding comfort. The domestically leading triple power supply system equipped adopts the rapid compensative charging and trickle charging mode, with the driving range up to 150km, which can completely meet the long mileage characteristic of inter-city buses. It's proved by actual inspection that the electricity consumption of these two models is as low as 0.8kw.h per kilometer, even with the A/C system running in summer, to boost Sanshui Transportation Development for realization of "Minimized transportation cost and maximized operation value", featuring low energy consumption.
King Long New Energy R&D Gains Great Achievements
As a matter of fact, King Long always keeps "intimate" and attaches importance to "adaptation to local conditions" while providing the new energy solutions. In consideration of the diversified city and road conditions and in response to the problems of various products during actual operations, King Long takes corresponding optimization and improvement measures in terms of product design, charging mode, supporting facility construction, and safety guarantee to play the maximum performance of the new energy bus products of diversified categories under specific operation environments.
The customized new energy solutions enable King Long new energy products to win the favor from the market. Till now, more than 10,000 King Long new energy buses are under operation in more than 200 cities nationwide.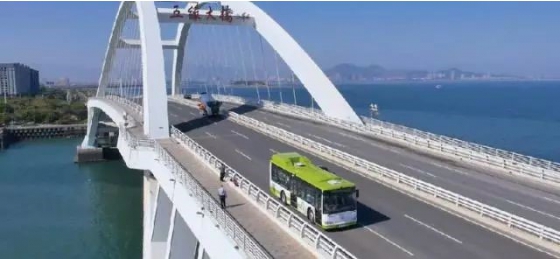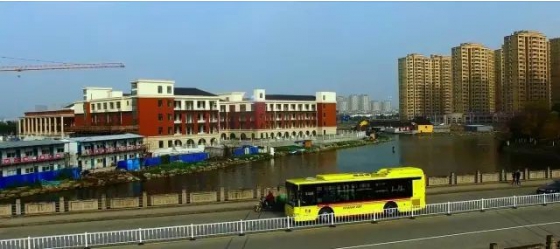 In addition, King Long always keeps in step with the development trend of new energy market and continuously leads the industry development trend with revolutionary products. At the Beijing Road Transportation Exhibition in this May, King Long exhibited the XMQ6127BY all-new Longwei II pure-electric road bus. Transforming the modification mode of new energy buses from traditional vehicle models, this model is designed and developed completely in response to the all-new ecology of pure-electric buses to all-round meet the customers' performance, safety, and comfort needs on pure-electric buses.
The City Lights XMQ6850G pure-electric bus on exhibition as well is updated and renovated synchronously in terms of modeling, upholstery, and new energy control system on the basis of integrating the advantages of last generation bus products to cope with the new technology competition in the new energy bus market.