King Long Buses Serve Torch Relay of China National Games in Tianjin
2017-09-26
Following the approach of the opening ceremony of the 13th China National Games, as the hosting city of this China National Games, Tianjin, a beautiful city near the Bohai Sea and the Haihe River, hosted the flame lighting ceremony at the Siyuan Square at the junction of Haihe River on August 6, officially unveiling the torch relay of this China National Games. During the torch relay, King Long new 5 series bus, selected as one supporting vehicle for the torch relay, provided the shuttling service for all participating delegations of the torch relay. Wearing the logo and design of 13th China National Games, King Long new 5 series buses were traveling in all administrative districts of Tianjin throughout the whole event, highlighting the elegant demeanor of China National Games.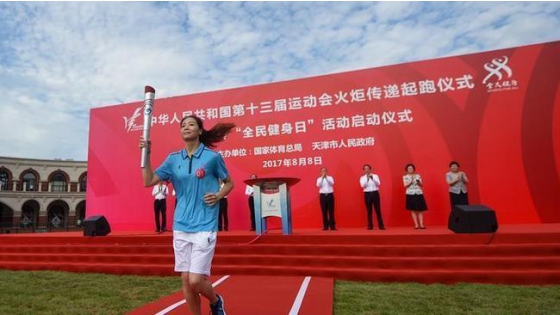 - Starting ceremony of Torch Relay -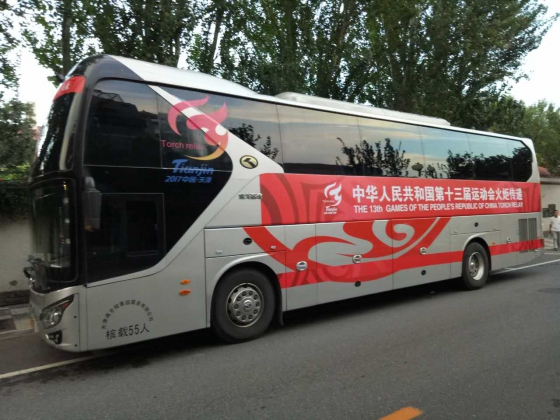 - King Long bus serves China National Games -
"With craftsmanship quality and glorious mission, 'National Bus' King Long serves China National Games". To ensure the successful fulfillment of service assurance mission and manifest the image of King Long bus as independent brand and craftsmanship "National Bus", King Long's marketing and after-service team in Tianjin completed the careful preparations and proactive planning and all personnel were on standby all day to provide timely and high-quality 24h parts and repair services to boost the supporting works of China National Games with an excellent spiritual attitude.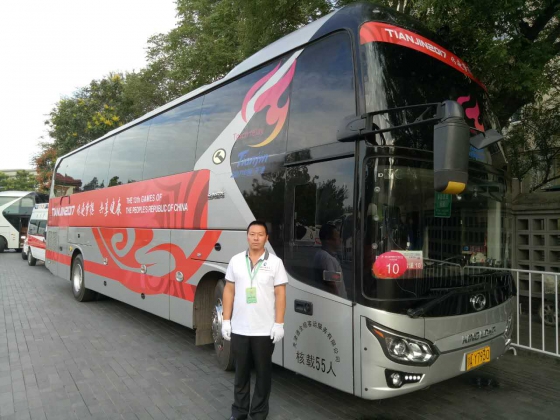 With the opportunity of China's National Games in Tianjin, King Long not only demonstrated the perfective after-sales assurance works, but also moved forward the marketing works to better win the favor of new customers with good brand effect and customer evaluation.
Tianjin Jinhuanqiu Transportation Co., Ltd. entered for cooperation recently is an example of our marketing works:
In July, the first batch of XMQ6112AYN5C was officially delivered to Jinhuanqiu Transportation to provide services for the local tourist market in Tianjin. Mr. Xue Jinzhu, the General Manager of Jinhuanqiu Transportation, said, "We are moved by the products and services of King Long. This batch of buses delivered this year is currently under good operation status and wins the consistent appraisal from the bus users and customers."
Good reputation wins returned customers. After these buses are put into operation in succession, with the Good reputation, King Long will win the preference and trust from more users.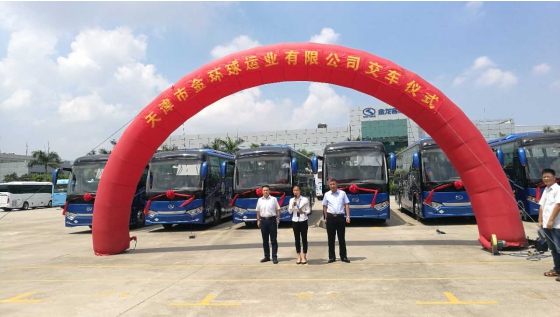 - Delivery ceremony of buses to Jinhuanqiu Transportation -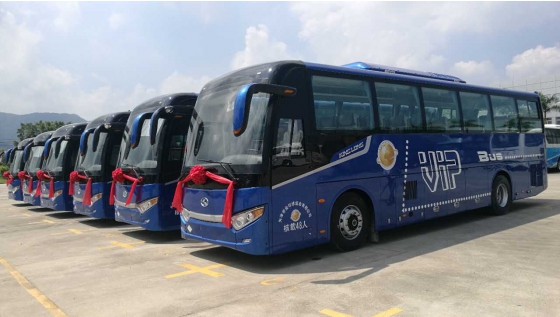 - Batch delivery of buses to Jinhuanqiu Transportation -
Today, by utilizing the opportunity of China National Games, King Long will continue to boost major social activities, exert the sportsmanship of Higher, Faster, Stronger, demonstrate the elegant demeanor of "National Bus", and confront new challenges.