From Xiamen of China to Russia, King Long Travels Thousands of Miles
2017-09-26
To celebrate BRICS event, Xiamen Media Group has conducted a large news interview Go to BRICS Countries to search for stories in Xiamen and even in southern region of Fujian province on the BRICS countries, and record with a camera the far-reaching influence of BRICS leaders' meeting on the world. Following the step of reporters, let's go into Russia together.
Since ancient times, merchants from Fujian of China traveled tens of thousands of tea road to make tea become daily necessities for every family in Russia. So what are the new connections between Russia and Fujian and Xiamen.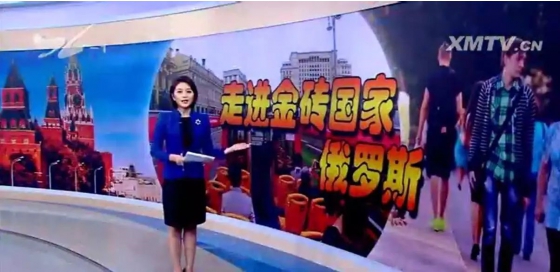 Now, there is more than tea on the long trip from Fujian to Russia. The China-Europe Train from Xiamen to Russia and increasingly convenient traffic connections have brought to Russians various brands in Xiamen and products made by China along the trade routes between both countries.

April 21, 2017 Haicang of Xiamen
Reporter Xiao Xin:
Previously, enterprises generally have to choose water transport or air transportation when transporting cargoes from Xiamen to Russia, but from April 21, 2017, they have can choose China-Russia Train. Behind me is the first direct freight train from China to Russia.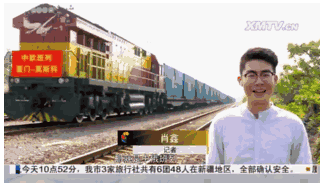 As of the end of July, China-Europe Train from Ximen to Moscow had run for 7 times.
While being interviewed, Maksim, General Manager of Xiamen Pagoda-Build Co., Ltd. (Pagoda), said before opening of China-Europe Train they only have two channels to transport cargoes: by sea from Xiamen to Haishenwai and by train to Moscow or other cities of Russia, taking 30 days at the soonest; by sea to St. Petersburg and then transported by trucks to nearby cities, taking about 45 days. Now, with the opening of the China-Europe Train, it only takes 14 days (about 11,000 kilometers) from Xiamen to arrive Moscow through Manzhouli of Inner Mongolia.
June 10, 2017 Kuntsevo of Moscow
Reporter Yu Rui:
After 14 days of trip, the last batch of stones sent by Pagoda arrived here early this morning. These stones were transported into the area under the customs supervision behind me. After about another three days of customs clearance, they will be put into municipal construction in Moscow. The railway more than ten thousand kilometers long once again narrows the trade distance between Russia and China, especially southeast coastal region of China.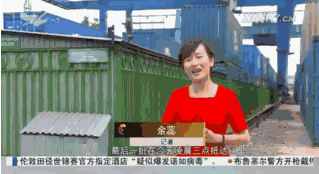 In 2017 Xinjiang Beijing-Xinjiang HSR

The China-Europe Train from Haicang links southeastern coast of China with Russia and a "long dragon on the land" from Guankou Township of Jimei District has been fully prepared.

March 25, 2017 Guankou Township of Jimei District in Xiamen
Staff of King Long introduced vehicles to Russian distributors, saying: "we have great advantages by doing this and it is not easy for glasses to get fogged after use of our technology.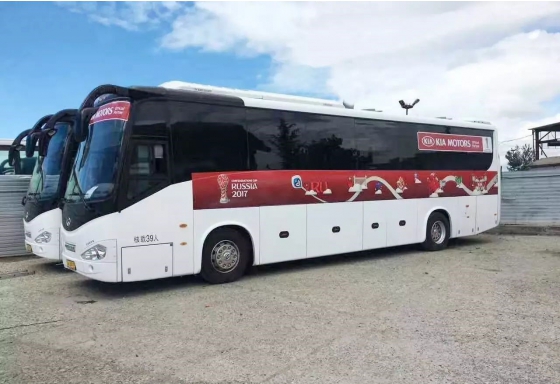 2017 FIFA Confederations Cup is going to kick off in Russia. During the event, King Long will provide luxury tour buses to serve guests. Therefore, King Long's distributor Mike in Russia specially went to the plant to check the vehicles to be delivered for the FIFA Confederations Cup. From 2007 when being exported to Russia, King Long buses have been running on Russian land for ten years. To adapt to Russian market, all the exported vehicles have been improved in accordance with local characteristics of Russia. For example, seats have been widened and glasses have been thickened, enhancing the comfort and safety of the whole vehicle greatly.

General Manager Mike of Eurasian Transportation Company said: "from 2009 to 2014, our company sold around 150-200 vehicles in Russia each year. In recent years, many state-owned groups have also purchased tour bus of King Long."

After inspection and confirmation of the vehicles, they will be covered with explosion-proof film and undergo chassis protection, and then be transported northwards by professional drivers from Xiamen along the route of Silk Road in those years to Russia through Bakhty of Xinjiang after 7 days.
So far, there have been nearly one thousand King Long high-end buses in Russian market. Xiamen Golden Dragon Van Co., Ltd., owned by Xiamen King Long Motor Group, has its subsidiary established in Russia, and King Long's HIGER double-deck sightseeing buses transport visitors from all over the world to experience customs of Moscow at scenic spots like Red Square every day. In addition, Putin and Medvedev have also ridden vehicles of King Long for many times, and expressed their approval for vehicles of the brand.

Sales Manager Iwan of Eurasian Transportation Company said: "We know King Long has a good reputation and that some of its products are exported to Europe and even have been certified by Europe. So, for all these reasons and its very reliable equipment performance, we choose King Long."