200 High-end Buses Head for Saudi Arabia
2017-09-26
On August 23, the grand "Pilgrimage to Mecca" will kick off, which will attract millions of Muslims from all over the world to swarm into the Holy City of Mecca.
To embrace the annual event, pilgrimage transport enterprises have already taken actions. On August 4, 200 King Long premium tour buses were lined up on Xiamen's modern wharf in an orderly manner and loaded on board successively to head for Saudi Arabia for the pilgrimage transport "battle" that is going to kick off.
With the delivery of this batch of 200 high-end buses, King Long since this year has exported nearly 800 buses to Saudi Arabia, becoming the Chinese bus brand exporting the largest number of buses in this market.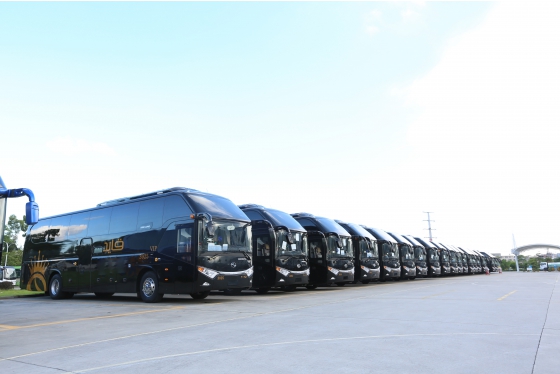 Brand reputation, heavy responsibility
"After arriving Saudi Arabia, these buses will be delivered to a local pilgrimage transport company. It is also the first time for the company to purchase King Long buses." According to King Long's distributor representatives in Saudi Arabia, the transport company, despite its establishment only a few years ago, shows a strong development momentum and vows to make more aggressive moves in the pilgrimage transport market. "It is necessary to have effective tools to do good work". After multiple investigations and comparisons, the company purchased 200 high-end King Long buses at one time to serve as its "effective tool" to build a quality transport brand.
Mecca has no airport, so one has to reach an airport of cities near Mecca and then go to Mecca through the means of transportation there. Since highway transportation is the main traffic means in Saudi Arabia, taking a bus naturally becomes the first choice. For this reason, local pilgrimage transport market is very huge, bringing about fierce competition. To win the competition in such a "red sea", both quality soft power and hard power are required.
"Customers pose high requirements to vehicle brand, performance, appearance, workmanship and services, and attach importance to each detail. For example, customers, considering from the perspective of coordination in the vehicle, even require that black screws should be used for seats", said a manager of King Long Saudi Arabia Project while being interviewed. Customers pursue perfect details. In addition, General Manager of the company came to King Long's plant area in Xiamen by traveling thousands of miles, and inspected the manufacturing process of the company's "new main force".

"Be they brand, vehicle quality or after-sales service, King Long enjoys good reputation in Saudi Arabia and can flexibly meet our customized design of vehicles according to the demands in Saudi Arabia market and professional requirements, which is helpful for us to improve our transport service." With beautiful, elegant and crafted King Long buses rolled off the production line, the General Manager sincerely gave a thumbs-up to China's bus manufacturing.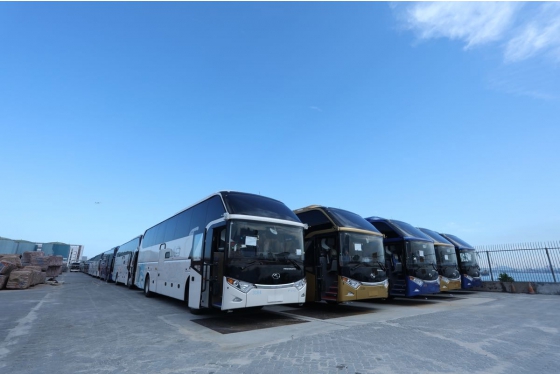 Good quality, standing the test

It is the first time for the customer to purchase and introduce such large batches of King Long buses, and place great expectations on King Long bus to "cultivate image and build brand", highlighting high recognition to King Long buses. Such a trust is not "love at first glimpse", but King Long's brand awareness in Saudi Arabia market after more than one decade of development there.
King Long has realized export in batches for 13 consecutive years since 2004 when it exported vehicles to Saudi Arabia market. Against the backdrop of implementation of the "Belt and Road" Initiative, King Long keeps a good development momentum in export of vehicles to Saudi Arabia. So far, King Long has had a market volume of over 4,500 units in the country, 70% of which are sightseeing buses, becoming the highest-profile Chinese bus brand.

Saudi Arabia is one of the world's most demanding markets, with the toughest test on vehicle quality for its strict regulations and standards, severe environment for vehicles and great traffic pressure during the pilgrimage. In Saudi Arabia, King Long is recognized and favored by customers and passengers by virtue of excellent quality. Every year, Saudi Arabia's department in charge of pilgrimage makes public the comprehensive assessment ranking of companies providing transport services for the pilgrimage to Mecca and those transport companies with products and after-sales services from King Long rank top 5 in the list for years.

King Long not only makes achievements in Saudi Arabia market, but also takes advantages of the "Belt and Road" worldwide and realized steady development in recent years with its good quality and after-sales services. Now, King Long exports vehicles to more than 130 countries and regions, with market holdings reaching 80,000 units overseas, enjoying a good reputation. Over the years, King Long has topped the industry in sales and the number of its exported buses from January to June ranked the first place in the industry.