Brand new XMQ6105AY Coach Earned Public Recognization with 5 Excellent Performances
2017-05-24
On April 1, the 2017 Tianjin International Passenger Transportation Equipment and Technology Exhibition was officially kicked off in Tianjin. King Long attracted extensive attention thanks to its "four exquisite bus models" on display, among which the new XMQ6105AY coach, a traditional hybrid model, overwhelmingly drew visitors' eyeballs.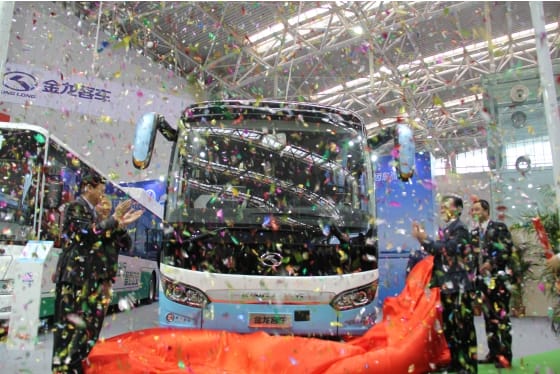 The Unveiling of the New XMQ6105AY Coach
In fact, the brand-new series buses have made their first appearance before and over 1,000 XMQ6105AY units made their way to the market on the occasion of its anniversary last year.
On the scene of Tianjin Passenger Transportation Equipment Exhibition, Ban Tao, Marketing Director of King Long indicated that "King Kong has successfully created its brand-new series buses platform through more than 20 years of professional coach manufacturing experiences and 15 years of technological succession and innovation." The new XMQ6105AY coach is deemed as a representative that is built on the success of a series of classic King Long bus models. On the request of the market, King Long will continuously launch various models. The XMQ6105AY coach, unveiled to the public at the Tianjin Passenger Transportation Equipment Exhibition, is among the brand-new series buses.
Higher economy: bringing ultra-high cost effectiveness
As is known to all, the transportation sector has been faced with serious challenges of transformation and upgrading in recent years, and customers prefer to vehicles with high cost performance and maximum value creation as a consequence. Therefore, King Long launched the brand-new series buses with the XMQ6105AY coach as its representative by deeply exploring market demands and comprehensively analyzing mass data.
As another representative of King Long coaches, this new XMQ6105AY coach reserves excellent performances of classic King Long bus models and also features multiple innovations in accordance with factual demands of road passenger transportation and tourism market. Boasting higher fuel economy, higher safety standards, more travel comforts for passengers, higher reliability and stronger power performance, it makes new breakthrough over cost performance, offers diversified choices for customers and more comfortable travel experiences for passengers.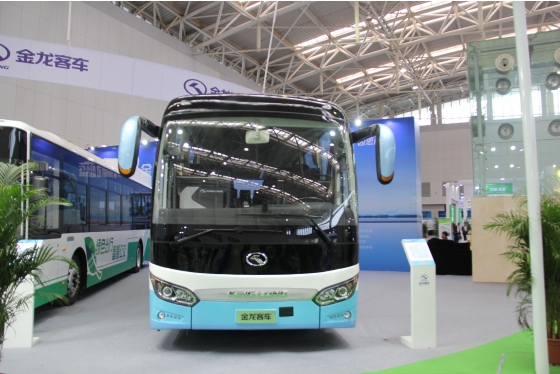 The New XMQ6105AY Coach
On the premise of comfort and safety assurance, heater and air-conditioning pipeline of the XMQ6105AY coach are improved and the analysis of thermal-flow fields are adopted to effectively lower down the temperature of cabin and reduce the fuel consumption by 3%. Apart from this, the fuel-efficient driving control system brings remarkable comprehensive fuel efficiency and thence realizes higher cost effectiveness.
Higher safety: comprehensive guarantee of active and passive safety performances
On April 1, the Safe Technological Conditions for Operating Passenger Cars standard was officially implemented, further elevating the requirements on safe technologies of passenger cars and promoting the transformation and upgrading of coaches. Enjoying its reputation as "National Vehicle", King Long created a miracle in 2003 - its XMQ6115 coach hit the record "driving 2.4 millions of kilometers without major repair" in the industry, mainly thanks to its excellent safety performance. As Ban Tao said, the brand-new XMQ6105AY coach not only reserves the higher safety of classic products but also accepts multiple optimization and improvement in terms of active and passive safety.
The XMQ6105AY coach is manufactured with Q700 high strength steel in its body and adopted with various active safe technologies through the King Long Smart Cloud Service Platform, to ensure the active and passive safety in all aspects. In addition, 1.0 MPa braking pressure can effectively shorten braking distance to ensure the reliability and stability of brake.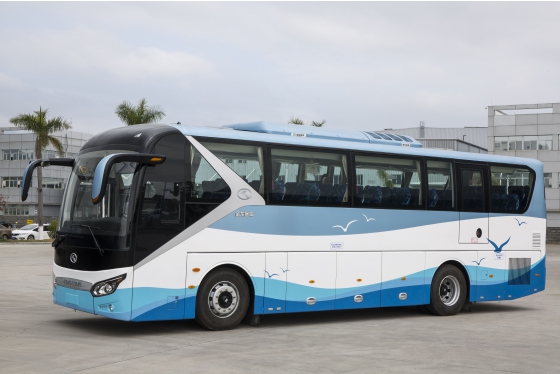 The Dignified and Generous "K"-shaped Ribbon Pattern
In particular, the King Long Smart Cloud Service Platform can provide multiple driving services to ensure higher driving safety at the same time simultaneously turn on both high and low beams to guarantee sufficient driving vision and narrow blind area.
More comfortable: more travel enjoyments for passengers
As a pioneer of numerous leading bus models, King Long is committed to improve the riding comfort of coach.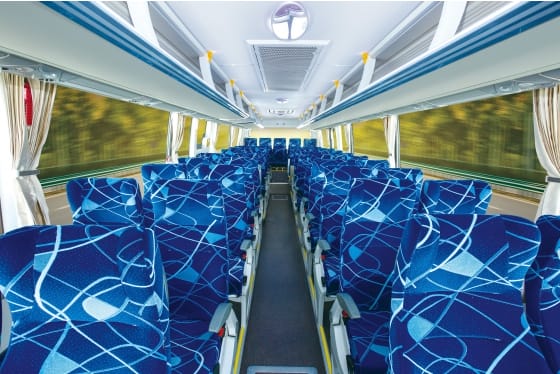 The High Back Seat Brings more Enjoyable Travel Experience
It is learned that the high back seat installed on the XMQ6105AY coach features highly adaptive design and can effectively ease travel fatigue as a result. The more stable air suspension is equipped in the coach, contributing to smoother driving. The NVH technology is adopted to create a more steady and quiet travel experience.
In terms of interior and exterior decorations, flame-resistance and environmental performances and other devices such as roof, access cover, luggage rack and seat of the XMQ6105AY coach are correspondingly improved, to ensure pleasant aesthetic and more comfort travel experience. This new model can be accordingly deemed as an "enjoyable coach".
Stronger power performance: stable and strong power system bringing higher efficiency and lowering fuel consumption
Majority of operators pay great emphasis on power performance of vehicle. The XMQ6105AY coaches are installed with Weichai or Yuchai engines, featuring stable and strong power system, and thus bring high efficiency and low fuel consumption and can conform to actual demands of road passenger transport and tourism market well. Moreover, the improved real axle largely elevates the transmission efficiency and loading capacity of King Long bus.
The further improved power system of XMQ6105AY coach can not only adapt to diversified and complex road conditions and customized demands, but also deeply reduce comprehensive operating cost of users and build the XMQ6105AY coach into a "money maker".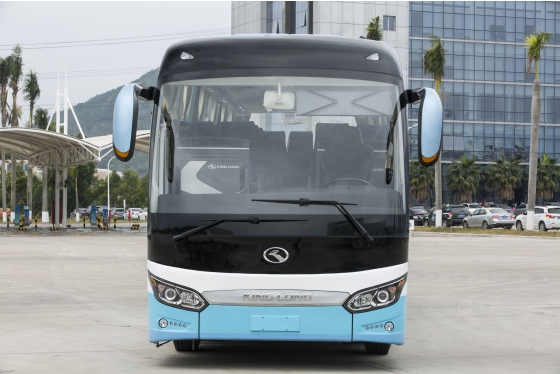 Higher Reliability: more Stable and Longer Companionship
The high reliability is regarded as one of King Long coaches' highlights and helps many bus models achieving the result of "driving millions of kilometers without major repair". And this feature is also adopted in the XMQ6105AY coach. The 18 electrophoresis processes are applied to ensure over 10 years of body quality, especially allay customers' anxiety over driving vehicles in coastal areas and other areas rich in saline or alkaline soil.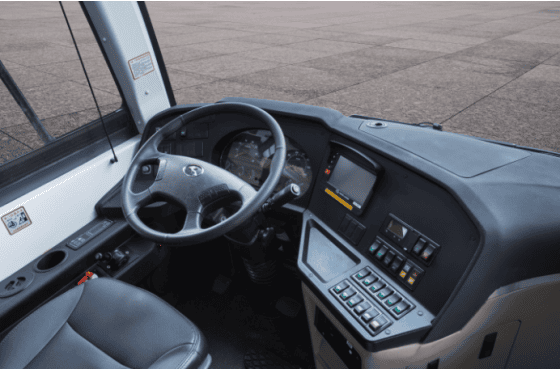 The cooling, line and integrated power supply systems of the XMQ6105AY coach are all deeply improved: water resistance of waterproof wire installed in the power supply management system is up to IP54; the loading capacity is elevated to 11.5 tons on the basis of light weight design; reliable double pull rod structure design is combined with the steering straight pull rod ball head, ensuring good straight driving and extending service life of steering system.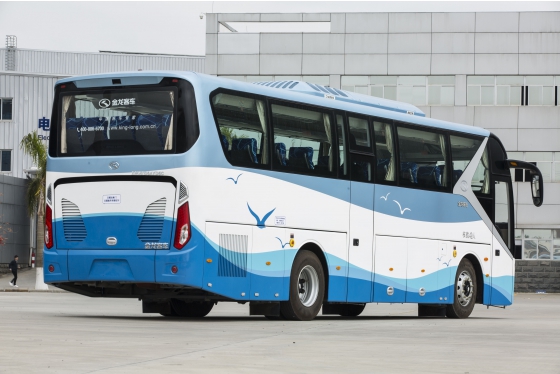 Comprehensively, the new XMQ6105AY coach not merely further enriches the team of brand-new series buses and also brings more favorable choices to the public and creates greater value for them, thereby realizing King Long's finial targets of transformation and upgrading. Meanwhile, this is vivid interpretation of King Long's brand proposition - "Advance with Innovation, Meet Your Transport Needs" together with the mission of "serving global passenger transportation". In the future, King Long will stick to the craftsmanship and forge itself into a golden brand of "Made in China".