King Long Enters into New Energy Era
2016-12-20
China has already involved into the world's largest new energy automotive market. As a pioneer of energy conservation and a leader of new energy bus & coach research and development, King Long never stops the pace of research & development results and comprehensive solutions. Looking back on the development course of China's new energy bus & coach, King Ling never falls behind. City Lights series of products lead urban public transport into the era of new energy.

The First Hybrid Power Bus in China
In 1997, King Long together with Tsinghua University developed Rosa series hybrid power bus, the earliest hybrid power bus in China. This bus also joined EVS on behalf of China. In 2001, King Long started to research energy-saving vehicles independently. Back then, hybrid power bus had not gained much popularity. When King Long brought the first hybrid power bus to an exhibition in Beijing, many visitors thought that the bus was so strange. However, this enterprise that explores the so-called strange thing stands out as a pioneer in the following 16 years and shoulders the mission of offering energy-saving and environmental-friendly products. Consequently, King Long has evolved into a trailblazer for the development of China's new energy bus.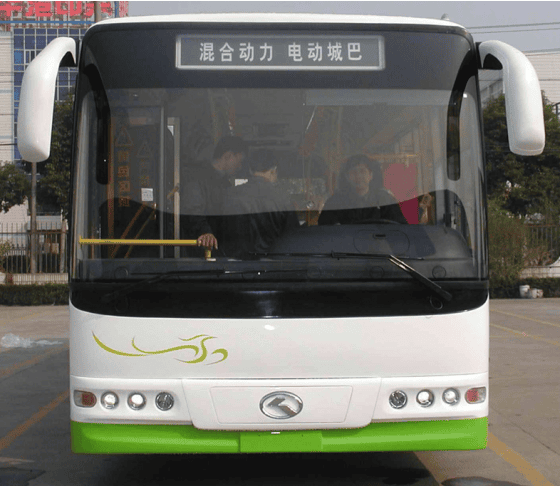 Dual Fuel Bus
The application of gas fueled bus appeared on agenda in 1998, and King Long XMQ6100SL dual fuel buses gradually increased their popularity over the following years. The earliest form of emission reduction vehicle adopted gasoline and liquefied petroleum gas as dual fuel, contributing to environment governance.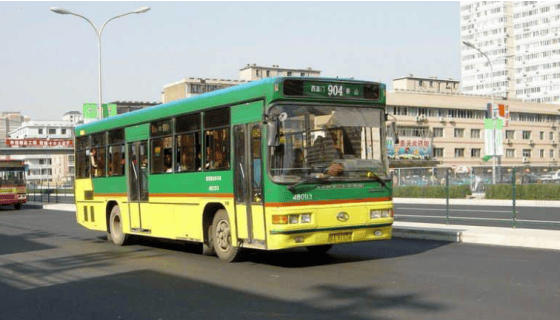 The First Dual Energy Electric Bus
In 2002, King Long and Xiangtan Electric Manufacturing Group Co., Ltd. (XEMC) successfully developed XMQ6120G8 dual energy electric bus, driven by battery and alternating current power supply.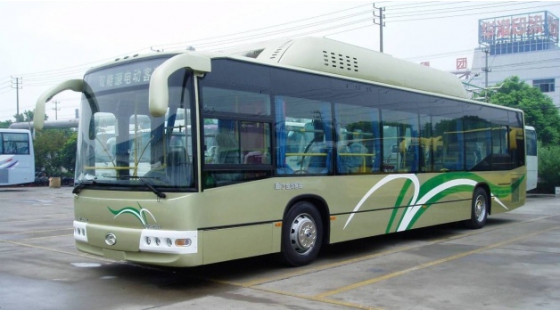 The First International Award
Michelin Challenge Bibendum, for international clean energy automobiles, took place in Asia for the first time in October 2004. XMQ6120G, a hybrid power bus, competed for all the five programs, won first prizes in terms of its speed of acceleration and fuel efficiency at the group of hybrid power bus and its total score ranked first.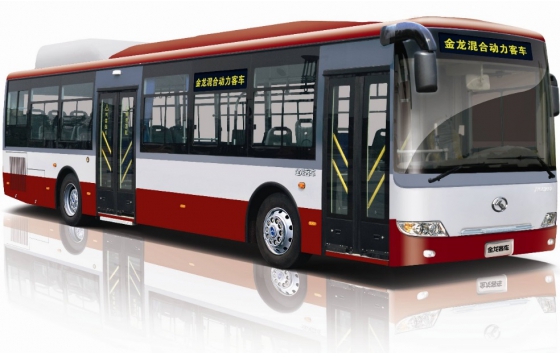 The First Batch of Exported New Energy Buses
Since 2003, King Long XMQ6118G, XMQ6117G and other CNG road buses have been exported to Philippines, Thailand and other countries in mass. In 2009, the first hybrid bus XMQ6121H was officially marketed in Singapore, marking a breakthrough for Chinese brand to export hybrid buses to overseas.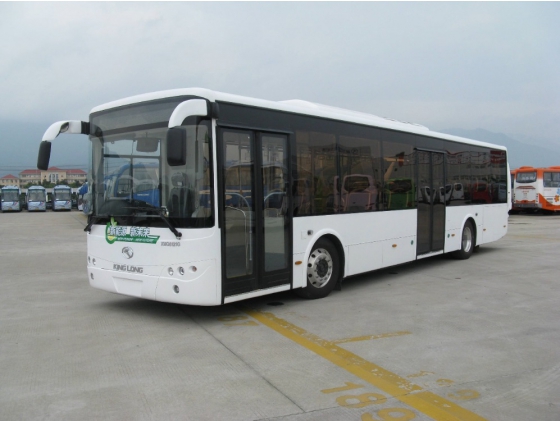 The First Batch of Vehicles Joining "1,000 New Energy Buses for 10 Cities"
In 2010, 40 hybrid power buses including XMQ6127AGH43 and XMQ6106GH33 were put into service as the first batch of demonstration operation vehicles of Xiamen. This symbolized that Xiamen is carrying out the pilot program of "1,000 New Energy Buses for 10 Cities," which also ushers in an era of adopting new energy buses in Chinese cities. King Long new energy buses are viewed as Green Ambassadors by residents in Pingdingshan-Eagle City, Luzhou-City of Liquor, Anshun-Hometown of Waterfall and Xiangtan-Hometown of Celebrities.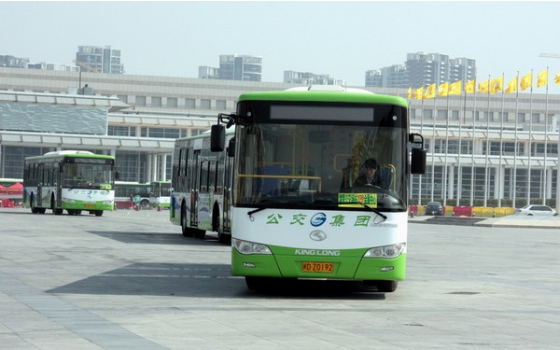 The First Batch of Clean Energy School Buses
In 2012, the first batch of 80 LNG powered "long headstock" school buses of King Long were put into service in Zhongshan City, Guangdong Province. It was the first time to apply LNG on school buses in China. These school buses are featured by safety, energy conservation and being smart, which have been well received by local users.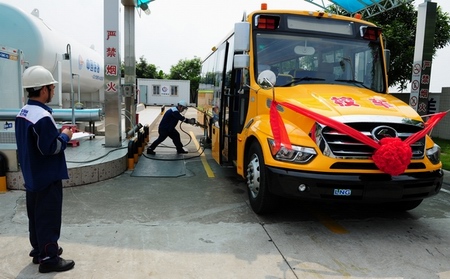 "Pollution-free and Defect-free" Service for Mega Events
In 2015, 35 EV buses of King Long served the first National Youth Games, which was the first time for new energy buses to serve such games in China. Besides, King Long EV buses also served China EV 100, Xiamen Marathon and other events to stage pollution-free events.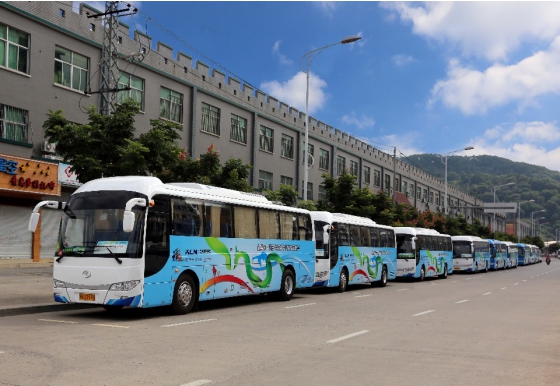 The Record of Biggest Order Gets Renewed
King Long continues to accelerate its pace of expanding energy-saving and new energy buses market and optimize its products and services. As this happens, more and more cities choose King Long to serve their urban public transport. In 2011, Wuhan Bus Group purchased 200 XMQ6127GHEV4 hybrid power buses. In 2013, Yancheng Bus Company purchased 102 new energy buses from King Long and it again made a procurement of 160 King Long plug-in hybrid power buses in 2014. In 2015, King Long won the order of 200 XMQ6106 plug-in hybrid power buses from Shaoxing. Last year, the annual sales growth for King Long new energy buses stood over 500%, which was well over the overall growth pace of new energy automobiles.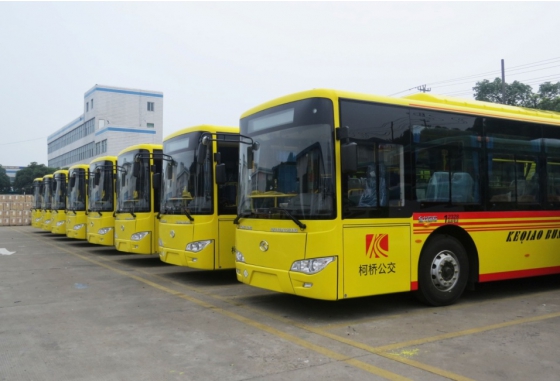 No More "Non-authentic Plug-in Hybrid Power Buses"
In 2015, King Long developed ISG plug-in hybrid power bus, so the days of using pseudo plug-in hybrid power are gone. Therefore, this is the first true plug-in hybrid power bus that is in line with buses scheduling and operation status. New energy buses can receive efficient and intelligent operation as facilitated by King Long Smart Cloud Service Platform, ECO-Chip new energy management system and other independent technologies.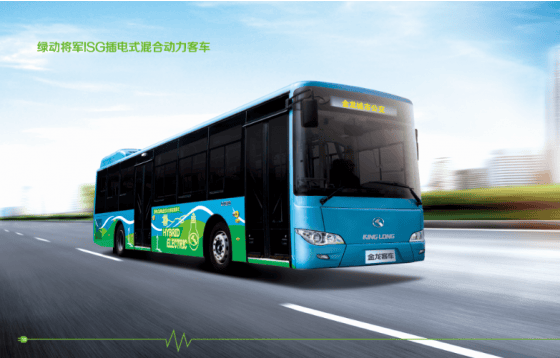 Autonomous Control System Debuts Overseas
In May 2015, King Long released a new energy management system, named as ECO-Chip, an all-round solution for new energy. In September 2015, King Long launched ECO-Chip plug-in series parallel system in Belgium. It was the first time for Chinese bus & coach brand to showcase its independently researched new energy vehicle integration strategy in a foreign country.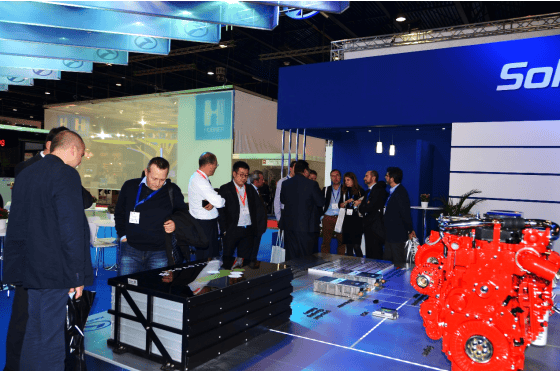 Carry Forward Iconic Technology in a New Era
A new generation of urban bus platform of King Long shoulders the mission and responsibility to act as the light that changes cities. In June this year, new energy mini buses XMQ6850, the first batch of City Lights vehicles, were delivered to Potou District, Zhanjiang City, Guangdong. On the new generation of urban bus platform, new buses have embarked on the journey to make our city a better place to live. In August, King Long's new energy green transport solution began to be implemented in Shandong. Prior to this move, Qingdao Zhenqing Bus Group had already purchased 100 plug-in hybrid power buses from King Long, serving mobility in West Coast New Area, Qingdao. City Lights are impossible without King Long's years of research and development efforts and the experience of researching and developing new energy vehicles. In the foreseeable future, this brand new bus platform will further drive the innovation of King Long. This will not only boost the progress of urban bus products and technological upgrading, but also lead the development of the whole industry to advance China's new energy technology.