King Long Serves the 8th National Congress of the CSBT
2016-11-09
The 8th National Congress of the CSBT, sponsored by Chinese Society of Blood Transfusion (CSBT), was held in Xiamen on November 9th. Four vehicle types: including medical blood collection minivan, KINGWIN, KINGTE emergency blood delivery minivan and KINGO ambulance, were displayed by King Long, which drew wide attention from presenting guests.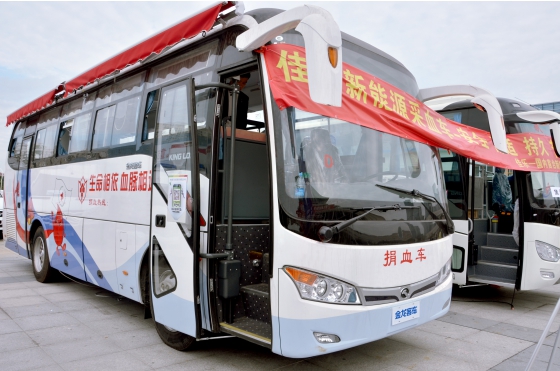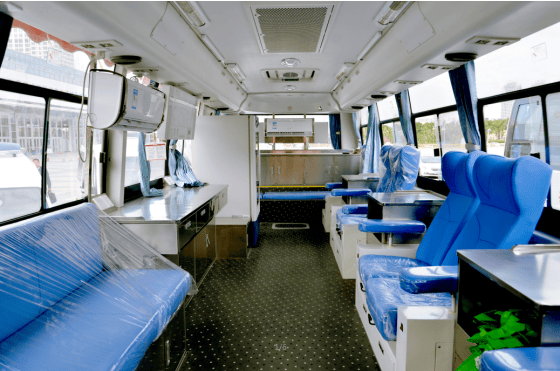 Mobile blood collection minivan has become an indispensable instrument for blood collection because it is flexible and is responsible for collecting over 80% blood of blood station. King Long unveiled a tailor-made nine-meter medical blood collection minivan at the National Congress of the CSBT.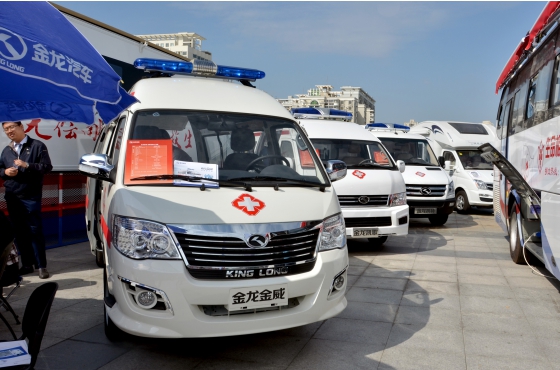 Low chassis ensures spacious interior and appropriate layout caters to the demand of group blood collection. Besides, King Long exhibited KINGWIN, KINGTE emergency blood delivery minivan and KINGO ambulance.
King Long's minivans adopt integrated production process for the whole vehicle; meanwhile, stamping dies auto body technology and cathodic electrophoretic coating process for the whole vehicle are applied. King Long boasts the most advanced integrated assembly line for minivan in China including stamping, welding, coating and final assembly, featuring sophisticated production equipment and high degree of automation, so King Long's techniques and equipment take leading positions in China.
King Long is the first enterprise that has passed TS16949 quality management system, the highest standard for international auto sector, so the stability of supplied spare parts can be guaranteed and the quality of its minivans is also a role model for minivan industry.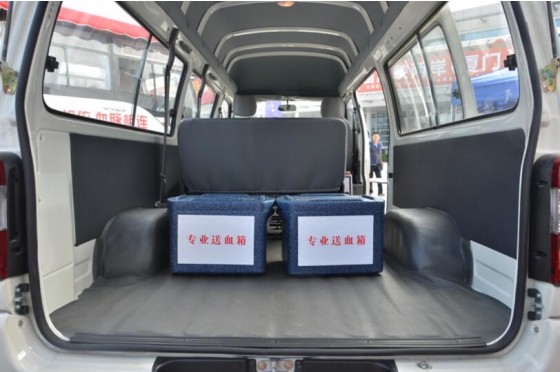 Blood Delivery Box Imported from Germany
KINGWIN and KINGTE blood delivery ambulances, due to their flexibility and practicability, could not only help medical staff to commute but also meet the professional demands of blood delivery. The minivan is equipped with high molecular polymer blood transfer boxes imported from Germany. Multiple specifications are capable to store 10 to 50 portable blood bags. Characterized by super tightness and heat insulation, these bags could ensure that the maximum temperature difference is less than 1℃ within 24 hours so as to maintain blood freshness.
KINGO Ambulance
KINGO ambulance features more spacious and flexible rescue compartment, offering emergency stretcher platform, oxygen supply system, ultraviolet disinfection lamp, 220V uninterruptible power supply system and other emergency equipment. King Long KINGO, with its eye-catching appearance to expand rescue corridor and 2.4L shock absorbing and noise reduction engine, is a professional mobile rescue platform providing life-saving aids. As a pioneer and a leader of medical vans, King Long's medical vans are more diversified. King Long renders 5 to 12 meters vans. Depending on the mature and reliable vehicle types, King Long offers various types of medical equipment and design on-board space based on customers' demands.
In 2008, King Long Offered Deluxe Blood Van with Sliding Compartment for Shanghai World Expo.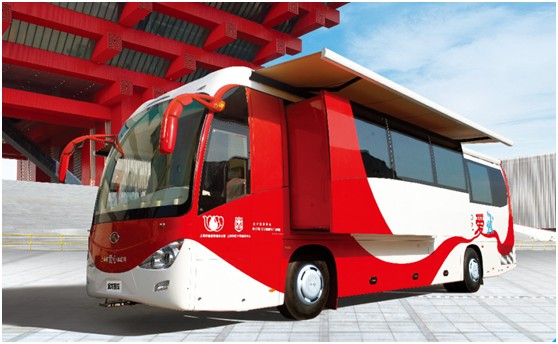 King Long, based on its 28 years of auto-making experience, adopts the concepts of exquisite craftsmanship and pursuing excellence to medical van production. King Long crafts high quality medical vans through world-leading technologies and offers professional medical van solutions for medical institutions.